Pirelli to introduce new F1 tyre compound in 2018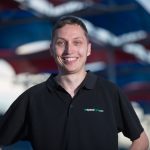 Pirelli has announced plans to introduce a new softest compound tyre to its Formula 1 range for next year.
F1's official tyre supplier has indicated that as many as eight compounds could be offered to teams in 2018.
Shortly after the Brazilian Grand Prix, Pirelli revealed a new pink walled compound tyre which will become the softest tyre of the spectrum.
It is yet to be named with the Italian firm offering three options, namely Megasoft, Extremesoft and Hypersoft, to be voted on by fans.
"We will have a range that is more usable, including the (new) hard, so we'll have five compounds that are usable," said Pirelli F1 boss Mario Isola.
"We want to increase this range, and this is the reason why probably we are going to homologate more than five. If you exaggerate the number it looks like you are confused.
"So we need to choose a number that is enough to give us the flexibility (but is) not too big."
The current tyre range includes Hard (orange), medium (white), soft (yellow), super-soft (red) and ultra-soft (purple). The last of those was added ahead of the 2016 season.
A pink walled tyre was used at the United States Grand Prix last month when the colour replaced the purple branding on the ultra-soft tyre to raise awareness for breast cancer.
We need your help in naming the new Pirelli pink #F1 tyre! Should it be MEGASOFT,
HYPERSOFT or EXTREMESOFT? Respond by tweeting us A, B or C! 🏁 #Pink4F1 pic.twitter.com/rIPEjxjHWF

— Pirelli Motorsport (@pirellisport) November 12, 2017