Pye: No concerns over Walkinshaw future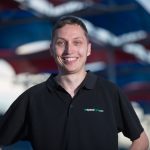 Scott Pye says he has no concerns regarding his future at Mobil 1 HSV Racing despite recent speculation that he could be replaced following a change of ownership at the team.
The South Australian has two more years left on his current contract at the Clayton team, which will transform into Walkinshaw Andretti United in 2018 following buy-in by IndyCar squad Andretti Autosport and British sportscar outfit United Autosports.
Pye signed a three-year contract with Walkinshaw for 2017 after losing his drive to Scott McLaughlin at Shell V-Power Racing.
However, his future at the operation was under the spotlight heading into last weekend's ITM Auckland Super Sprint.
Paddock rumours had linked the team to Richie Stanaway as a possible replacement for Pye, with the latter's stint beginning at Pukekohe.
Team boss Ryan Walkinshaw strongly denied the speculation to Speedcafe.com prior to the race weekend, while Pye remained in the #02 Commodore in New Zealand.
It also appears Stanaway is now set to join Prodrive in the team's fourth Falcon entry for 2018.
Pye has rubbished the speculation and remains confident his future is secure at the squad.
The 27-year-old is sitting 11th in the standings while team-mate James Courtney is in 20th spot.
"I got a few calls during the week, but it was quite funny," said Pye of the speculation prior to New Zealand.
"I wanted to go along with it and say I was only coming to New Zealand for a good time, and I wouldn't actually be racing – just to see people's faces when I turned up.
"It seems to happen quite a lot. With every deal I've had at some point something has happened, so I think people just expect it to happen again. But it's not the case at all, I'm here for the foreseeable future.
"I'm 11th in the championship. The season hasn't been what we hoped for, but it hasn't been terrible.
"Our ambition at the start of the year was to be in the Top 10. So I don't see any reason why I'd be the one to be out.
"That's why I thought it was funny that people assumed it'd be me again if there was a seat available."
After a turbulent Supercars career that has seen Pye face uncertainty over his future on more than one occasion, he is aiming to make Walkinshaw his home beyond his current deal.
"I tried to enjoy (my time at DJR Team Penske) at the start because I had a two-year deal. And then all of sudden, heading to Homebush, they said 'oh yeah, we're only going to be running one car'," he said.
"So, that was strange. That was a completely different circumstance.
"It was never even a discussion here. I think I've proven this year that I'm worthy of my seat, so once the news came out about Andretti and United Autosports, I was excited about it straight away.
"I want to be in this team for a lot longer than my current contract anyway; I'm really enjoying my time here, I love the people I'm working with, I get on really well with James as well.
"So there's another two years (on the contract), and with everything that's happening it's a pretty exciting place to be at the moment."
Stay tuned to Speedcafe.com for an 'Up Front with Foges' episode with Mobil 1 HSV Racing boss Ryan Walkinshaw.