Matt Stone Racing confirms REC talks for 2018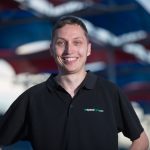 Matt Stone Racing has confirmed talks have taken place to purchase the Racing Entitlements Contract (REC) owned by Jason Bright as the team looks to step up to Supercars next season.
The Queensland-based team signalled its intentions to step up to the main game earlier this season, although a REC is yet to be obtained with its deadline to confirm plans for 2018 approaching.
It is understood the Dunlop Super2 Series team is among a trio of interested parties in securing the REC owned by Bright, currently housed at Prodrive.
The destination of the REC for 2018 is part of a complex shake-up for next season, which involves Prodrive, Lucas Dumbrell Motorsport (LDM) and Bright.
Bright currently has a contract to remain at Prodrive next season although the Melbourne squad is understood to be in the market to purchase another REC from LDM to run Richie Stanaway next season.
Under Supercars regulations a team can only run a maximum of four entries, leaving Bright effectively to find a new home for his REC.
It is thought Matt Stone Racing would promote Todd Hazelwood from its Dunlop Super2 program to the drive next season, if the REC is purchased by the operation.
Team owner Matt Stone is eagerly anticipating the conclusion of negotiations before pressing forward with his 2018 plans.
"All I can say is that we are hunting for REC and that is the final piece of the puzzle for our 2018 main game plans," Stone told Speedcafe.com.
"We are talking to Jason Bright but I cannot comment further on the status of that.
"It is case of supply and demand. You can't just buy one (a REC) because you want one, there has to be one available.
"We are in a good place with our sponsors and our partners so we are just missing that final piece.
"From our point of view we need to have it all wrapped up very soon. We have been putting it together for a while now and we would have liked to have had it done by now.
"We are coming down to our deadline.
"My impression of the market at the moment is that we are the only serious entity that is in a position to obtain a REC and maintain the obligations that come with it."
Having run cars in the Dunlop Super2 Series, V8 Utes and Touring Car Masters, Stone says his squad is more than ready to make the leap to Supercars.
The outfit received its first taste of the category when it ran a Commodore wildcard for Hazelwood at Queensland Raceway in July.
"A hundred percent we are ready," he added.
"As a business and team we are larger than several of the main game outfits that are out there.
"While we don't compete in the main game, we operate in several categories and run in international events.
"We have won titles and races in the majority of Australian championships around.
"It is the next logical step and it has just been a case of getting all our ducks in a row."
Meanwhile, outgoing Supercars CEO James Warburton has confirmed to Speedcafe.com that the category will not make any more RECs available for purchase, with 26 currently in operation.