Last GRM Volvo Supercar leaves Australia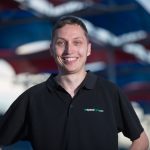 The last remaining Garry Rogers Motorsport Volvo S60 Supercar will leave Australia bound for Sweden this week.
Volvo requested the Melbourne squad to send two S60 chassis that contested the Supercars championship from 2014-2016 back to its headquarters, following a legal battle triggered by the manufacturer's sudden exit from the sport last year.
The first S60 headed back to Sweden in June where it will be housed alongside the second car at Volvo's museum in Gothenburg.
Raced by Scott McLaughlin last season, the second chassis, displayed in its 2016 blue and white livery, is awaiting transfer to Europe.
The GRM built Volvo S60 scored six championship race wins in Supercars during its three seasons of competition in Australia.
"We were happy to see the cars end up in the Volvo museum over there," team director Barry Rogers told Speedcafe.com.
"We sent one across in the Australian Grand Prix livery when Scott (McLaughlin) won in 2014 and the second one has gone back exactly as it raced in its final event last year.
"It is all part of history and we will move on."
The uncertainty following Volvo's exit prompted a late switch back to Holden for this season.
Despite having to rush to complete the build of two VF Commodores for Garth Tander and James Moffat, the team sits an impressive fourth in the teams' standings ahead of the Coates Hire Newcastle 500 finale.
Last weekend the team returned to form at the ITM Auckland Super Sprint.
Tander finished seventh and sixth in the two races, while Moffat, racing in his penultimate full-time event for the team, came home in 13th and ninth spot.
Considering the the upheaval the team has gone through, Rogers says he is proud of the outfit's achievements this year.
"From the outside finishing sixth, seventh, eighth or ninth in the championship doesn't make a big difference, but internally to have the drivers up there is satisfying," he added.
Tander sits ninth in the standings with Moffat in 17th ahead of the final round from November 24-26.