M-Motorsport KTM X-Bows join Bathurst 12H grid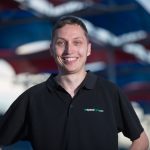 Australian squad M-Motorsport has confirmed plans to field two KTM X-Bows in next February's Liqui-Moly Bathurst 12 Hour.
The Melbourne-based operation will expand its commitment to the Mount Panorama endurance race after fielding a solitary KTM in Class C (GT4) for this year's edition of the race.
An all Australian line-up will pilot the two GT4 entries with team owner Justin McMillan to be joined by three-time Australian Formula 3 series winner Tim Macrow, Radical sportscar driver David Crampton and rising star Caitlin Wood in the #48 Interloy entry.
Caitlin Wood, who raced in Australian Formula 4, has been competing for Reiter Engineering in the Blancpain GT Sprint series this season.
The #49 car will be driven by Glen Wood, who will be paired with Bathurst rookies in former Formula Ford racer Trent Harrison and young gun Cody Hill, who contested last year's Dubai 24 Hour.
The team is eyeing success in Class C after an electrical issue ended this year's campaign for the car driven by McMillan, Glen Wood, ex-Formula 1 driver Tomas Enge and Reinhard Kofler.
"After that great run in Bathurst our plan was always to do more with the KTM this year," said M-Motorsport team boss Justin McMillan.
"Sadly the local market for GT4 didn't do what we'd all hoped for 2017, so Glen (Wood) and I shot over to Beijing mid-year for a round of China GT where we grabbed two second-placed finishes, and from there started talking to KTM and Reiter Engineering about expanding plans for 2018.
"Almost immediately after Bathurst we started fielding calls from people who were interested in the X-Bow and wanted to be a part of the program for the 2018 12 Hour.
"Having effectively dominated this year's event up to that silly electrical issue (the electrical loom melted internally in the car due to its proximity to the exhaust), KTM wanted to prove a point too with a 2018 return and victory."
The entry joins a growing list of GT4 competitors for the February 2-4 race, including Tony Longhurst, who will drive a new BMW M4.
McMillan and Glen Wood will aid their Bathurst 12 Hour preparations by joining Reiter Engineering for the Dubai 24 Hours from January 11-13.
The pair will join Reiter Engineering works driver Peter Kox and gentleman driver Nico Pronk in an X-Bow for the race.
"We're really looking forward to it," McMillan added.
"It will be another good opportunity to get miles in the car, but also to work again with the Reiter Engineering team, some of whom will also join us at Bathurst.
"It's going to be the ideal preparation."