Stanaway mentally preparing for Adelaide 500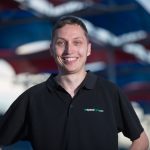 Richie Stanaway is already mentally preparing for next year's Adelaide 500 as he awaits official confirmation of a full-time Supercars drive for 2018.
The New Zealander is expected to be announced as a full-time driver next season having been heavily tipped to join Prodrive in the squad's fourth entry as part of a silly season shake up.
Both Stanaway and Prodrive remain tight-lipped on its plans for 2018 with other movements in the REC paddock expected to trigger an announcement in the coming weeks.
The Ford team, which currently runs four cars, is looking to purchase another REC which is likely to come from Lucas Dumbrell Motorsport, who intend to scale back to one entry, utilising a Prodrive built Falcon.
This would likely see Jason Bright and his REC head out of the Prodrive stable with several teams including Matt Stone Racing, rumoured among the possible suitors.
While the exact details of the arrangement are yet to be confirmed, Stanaway is anticipating an announcement soon and is starting to contemplate racing the 2018 season opener in Adelaide.
"It's not a question of if, it's when we can make an announcement," said Stanaway at this weekend's ITM Auckland Super Sprint.
"Obviously I can't say anything now but I can definitely start thinking about Clipsal (Adelaide 500) and I'm just really looking forward to it.
"Hopefully we'll have some news for you guys pretty soon.
"It's come a long way since that first co-driver session at Winton last year.
"It's been a year and a half of chipping away at trying to get this over the line, and we're pretty close to doing that. It's been a childhood dream of mine to race first for V8 Supercars.
"It's cool to have the experience as a co-driver. Obviously, naturally I'd like to race the main game as a full-time driver so hopefully we can say something next week."
Having made the bold decision to turn his back on a lucrative sportscar and a single seater career in Europe, Stanaway feels the decision has been vindicated.
The 25-year-old enjoyed his first taste of Supercars last season when he joined the Prodrive run Super Black Racing entry to co-drive with Chris Pither.
He joined Cameron Waters for this year's Pirtek Enduro Cup campaign, which resulted in a victory at the Wilson Security Sandown 500.
"It was a bit of a risk to give all of that away for only the possibility of running here full-time," he said.
"It would have been a bit awkward if I was only in as a co-driver over the long run.
"I guess this has justified the decision I made to come here.
"This year, having not raced in Europe after Le Mans, it meant I didn't have anything on my mind, other than being focussed on Supercars, and I've been living in Auckland which has been easy for me to commute back and forth to Australia, rather than having to do any long haul flights."