Whincup holds off McLaughlin for Race 24 win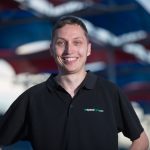 Jamie Whincup boosted his championship hopes by holding off title rival Scot McLaughlin in a head-to-head fight to win Race 24 at the ITM Auckland Super Sprint.
The Red Bull Holden Racing Team driver converted his pole position into a lead which held throughout two pit stop cycles despite being pushed hard by McLaughlin (Shell V-Power Racing).
The race quickly developed into a duel between the championship's top two.
McLaughlin almost jumped Whincup after rejoining from his second stop, but he was unable to prevent Whincup from sweeping around the outside of the Ford, and back into the lead on lap 35.
The Kiwi pushed Whincup hard before falling away in the final laps, saving fuel, as the latter held on to take a highly impressive and important victory.
Whincup also took out the Jason Richards Memorial Trophy.
The six-time champion's third win of the season will see him hold a 30 point lead over McLaughlin ahead of the Newcastle 500 season finale from November 24-26.
"We needed that, I'm just trying to give ourselves an opportunity at this one (title)," said Whincup.
"Old mate (McLaughlin) beside me is pretty quick so the guys have been digging deep trying to get the most out of our car.
"I didn't know how I was going to go, I was pretty crook before that one, but all's good, put my head down, car was great, and can't thank all the crew enough."
Prodrive's Cameron Waters finished third but is the subject of a post-race investigation after being involved in an incident that ruined the race for team-mates Chaz Mostert and Mark Winterbottom.
It proved to be an eventful race for championship contenders Mostert and Shane van Gisbergen, who saw their title bids suffer a severe blow.
Mostert managed scythe his way from 23rd to seventh after he was pitched into a spin following a clash with Prodrive team-mates Waters and Winterbottom.
Waters made contact with Winterbottom at Turn 8 while disputing fourth on the opening lap, which pushed the latter into Mostert, who spun out of third position.
Will Davison (Tekno Autosports), Lee Holdsworth (Preston Hire Racing) and James Courtney (Mobil 1 HSV Racing) ran into each other as a result, which put Holdsworth and Courtney out of the race.
Mostert's impressive drive means he is still mathematically in title contention albeit 264 points shy of Whincup.
However, worse was to befall Race 23 winner van Gisbergen due to a mistake while entering the pits for his first stop.
Lying fourth in the standings heading into the race, the reigning champion arrived too hot into pit lane on lap 16 and slammed into the rear of Tim Slade (Brad Jones Racing) after locking his brakes.
The impact caused extensive damaged to the front of the Triple Eight Holden, which required lengthy repairs in the garage, before he returned to finish 24th almost 14 laps down.
Like Mostert, he remains in championship contention but is 286 points back.
Behind, Fabian Coulthard kept his title hopes alive by coming home fifth after dropping to as low as 11th on the opening lap.
Driving a repaired Shell Ford after a roll in Race 23, the Kiwi finished behind Craig Lowndes in fifth, which leaves him 176 points adrift of Whincup.
Garry Rogers Motorsport's Garth Tander drove strongly throughout to climb from 11th on the grid to sixth at the flag, ahead of the charging Mostert, who passed team-mate Jason Bright on the final lap.
James Moffat (Garry Rogers Motorsport), who ran as high as fourth in the early stages, finished ninth as Mobil 1 HSV Racing's Scott Pye completed the top 10.
Michael Caruso was the top Nissan Motorsport runner in 11th in front of team-mate Rick Kelly.
Slade somehow survived the contact with van Gisbergen to bring the #14 Commodore to finish in 15th position.
After starting from fourth on the grid, Winterbottom crossed the line in 19th after he was caught up in an opening lap clash, before later incurring a drive-through for pit lane speeding.
Results: Virgin Australia Supercars Championship ITM Auckland Super Sprint Race 24
| | | | | | |
| --- | --- | --- | --- | --- | --- |
| Position | Team | Driver | Car | Laps | Time |
| 1 | Red Bull Holden Racing Aust | Jamie Whincup | Holden Commodore VF | 70 | 1:17:11.712 |
| 2 | Shell V-Power Racing Team | Scott McLaughlin | Ford Falcon FG/X | 70 | 1:17:17.618 |
| 3 | Monster Energy Racing | Cameron Waters | Ford Falcon FG/X | 70 | 1:17:20.371 |
| 4 | TeamVortex | Craig Lowndes | Holden Commodore VF | 70 | 1:17:30.502 |
| 5 | Shell V-Power Racing Team | Fabian Coulthard | Ford Falcon FG/X | 70 | 1:17:37.318 |
| 6 | Wilson Security Racing GRM | Garth Tander | Holden Commodore VF | 70 | 1:17:41.210 |
| 7 | Supercheap Auto Racing | Chaz Mostert | Ford Falcon FG/X | 70 | 1:17:43.614 |
| 8 | MEGA Racing | Jason Bright | Ford Falcon FG/X | 70 | 1:17:44.091 |
| 9 | Wilson Security Racing GRM | James Moffat | Holden Commodore VF | 70 | 1:17:50.044 |
| 10 | Mobil 1 HSV Racing | Scott Pye | Holden Commodore VF | 70 | 1:17:51.021 |
| 11 | Nissan Motorsport | Michael Caruso | Nissan Altima | 70 | 1:17:51.294 |
| 12 | Sengled Racing | Rick Kelly | Nissan Altima | 70 | 1:17:55.700 |
| 13 | Erebus Penrite Racing | David Reynolds | Holden Commodore VF | 70 | 1:17:56.067 |
| 14 | Harley-Davidson Racing | Nick Percat | Holden Commodore VF | 70 | 1:17:58.928 |
| 15 | Freightliner Racing | Tim Slade | Holden Commodore VF | 70 | 1:18:10.755 |
| 16 | Team CoolDrive | Tim Blanchard | Holden Commodore VF | 70 | 1:18:11.223 |
| 17 | Team Harvey Norman | Simona De Silvestro | Nissan Altima | 70 | 1:18:11.573 |
| 18 | carsales Racing | Todd Kelly | Nissan Altima | 69 | 1:17:12.137 |
| 19 | The Bottle-O Racing Team | Mark Winterbottom | Ford Falcon FG/X | 69 | 1:17:24.365 |
| 20 | Erebus GB Galvanizing Racing | Dale Wood | Holden Commodore VF | 69 | 1:17:38.432 |
| 21 | Plus Fitness Racing | Aaren Russell | Holden Commodore VF | 69 | 1:17:39.159 |
| 22 | TrailLite Racing | Jack Perkins | Holden Commodore VF | 68 | 1:17:41.097 |
| 23 | TEKNO Woodstock Racing | Will Davison | Holden Commodore VF | 67 | 1:17:28.682 |
| 24 | Red Bull Holden Racing Aust | Shane Van Gisbergen | Holden Commodore VF | 56 | 1:18:06.075 |
| DNF | Mobil 1 HSV Racing | James Courtney | Holden Commodore VF | 5 | 0:05:41.630 |
| DNF | Preston Hire Racing | Lee Holdsworth | Holden Commodore VF | 1 | 0:01:17.078 |
Championship points
| | | |
| --- | --- | --- |
| Pos | Driver | Pts |
| 1 | Jamie Whincup | 2850 |
| 2 | Scott McLaughlin | 2820 |
| 3 | Fabian Coulthard | 2674 |
| 4 | Chaz Mostert | 2586 |
| 5 | Shane Van Gisbergen | 2574 |
| 6 | Craig Lowndes | 2160 |
| 7 | Cameron Waters | 2071 |
| 8 | Mark Winterbottom | 2058 |
| 9 | Garth Tander | 2028 |
| 10 | David Reynolds | 1956 |
| 11 | Scott Pye | 1645 |
| 12 | Tim Slade | 1611 |
| 13 | Michael Caruso | 1602 |
| 14 | Rick Kelly | 1575 |
| 15 | Will Davison | 1491 |
| 16 | Jason Bright | 1485 |
| 17 | James Moffat | 1476 |
| 18 | Lee Holdsworth | 1437 |
| 19 | Todd Kelly | 1398 |
| 20 | James Courtney | 1350 |
| 21 | Nick Percat | 1335 |
| 22 | Tim Blanchard | 1176 |
| 23 | Dale Wood | 1125 |
| 24 | Simona De Silvestro | 1032 |
| 25 | Steve Owen | 660 |
| 26 | James Golding | 624 |
| 27 | Tony D'Alberto | 612 |
| 28 | Richie Stanaway | 594 |
| 29 | Alex Rullo | 594 |
| 30 | Matthew Campbell | 591 |
| 31 | Paul Dumbrell | 534 |
| 32 | Steven Richards | 504 |
| 33 | Warren Luff | 498 |
| 34 | Alexandre Premat | 495 |
| 35 | Jack Perkins | 495 |
| 36 | Jack Le Brocq | 485 |
| 37 | Dean Fiore | 465 |
| 38 | Luke Youlden | 462 |
| 39 | Chris Pither | 462 |
| 40 | Garry Jacobson | 417 |
| 41 | David Wall | 408 |
| 42 | Jonathon Webb | 372 |
| 43 | Dean Canto | 369 |
| 44 | Macauley Jones | 345 |
| 45 | Andre Heimgartner | 336 |
| 46 | Todd Hazelwood | 333 |
| 47 | Taz Douglas | 306 |
| 48 | Alex Davison | 297 |
| 49 | Richard Muscat | 291 |
| 50 | Karl Reindler | 270 |
| 51 | Aaren Russell | 261 |
| 52 | David Russell | 195 |
| 53 | Shae Davies | 153 |
| 54 | Cameron McConville | 81 |
| 55 | Matthew Brabham | 57 |
| 56 | Ashley Walsh | 0 |