Coulthard set for qualifying after overnight repair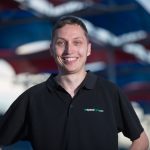 Shell V-Power Racing managing director Ryan Story has praised his team for working through the night to repair Fabian Coulthard's car for the conclusion of the ITM Auckland Super Sprint.
The championship contending squad worked until 4:30am this morning to fix the #12 Falcon after suffering a roll in the closing stages of the Race 23 on Saturday.
While the car escaped structural damage, the team required the help of local teams to complete the repair.
BNT V8s driver Jason Bargwanna sourced a spare roof panel from Richards Motorsport which was transported to the circuit last night.
It required some modification to fit the car having been shortened when fitted to a Toyota Camry race car that had been converted from an FG Falcon.
The car is expected to take to the track for this afternoon's 20 minute qualifying session.
"The boys have done a magnificent job as always do. They are always up for the challenge and they completed the task with aplomb," Story told Speedcafe.com.
"We managed to get through it alright and the car has come up tip top, so now we are looking forward to qualifying.
"We are just putting the finishing touches on the set-up now, it appears to be tracking alright."
Coulthard heads into qualifying at 1225 (1025 AEDT) having dropped to third in the standings following his spectacular retirement from Race 23.
VIDEO: Story talks through the repair on #12 Falcon