Stewards hand LDM $5K fine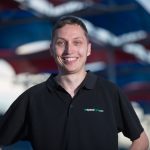 Lucas Dumbrell Motorsport has been fined following an incident involving Jack Perkins in Practice 2 at the ITM Auckland Super Sprint.
The #62 Commodore driven by Perkins, who has replaced Alex Rullo, came to halt at Turn 5 of the Pukekohe circuit when the left rear wheel worked itself loose.
Following a review of the matter, officials deemed the Melbourne team had breached safety regulations, resulting in a $5,000 fine of which $2,000 is suspended until the end of the year.
The stewards report read: "Following a DRD investigation into the reasons why Car #62, Jack Perkins, stopped at Turn 5 and an admission of a breach of Rule A8.5 (Safety – Competitor is responsible for all safety aspects – unsafe release of Car #62 from Pit Lane) by Lucas Dumbrell Investments Pty Ltd, the Stewards imposed the penalty of a Fine of $5000, $2000 of which was suspended until 31 December 2017, on Lucas Dumbrell Investments Pty Ltd,"
Meanwhile, Erebus Motorsport have also picked up a $1,000 fine after an errant wheel rolled across the fast lane in the pits during the ride session at the end of Friday's action.