Mostert accepts blame for Reynolds/Coulthard crash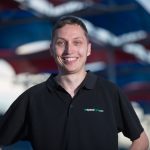 Chaz Mostert has held his hands up for triggering a spectacular crash involving title contender Fabian Coulthard and David Reynolds in Race 23 at the ITM Auckland Super Sprint.
The Prodrive driver triggered the championship altering moment when a move at Turn 8 on Reynolds (Erebus Motorsport) proved the catalyst in a melee that saw Coulthard end up on his roof at Turn 10 on lap 57 of the 200km race.
After pushing Reynolds off the road at Turn 8, Mostert appeared to attempt redress although grabbed neutral in the process which further slowed his progress.
As a result, the slowing Ford bunched the field and an opportunistic Coulthard moved by the incident before contact with Reynolds that sent the pair into the barriers.
Coulthard came off the worst after rolling his Shell Ford in the process.
Mostert was issued a drive-through penalty for the initial incident with Reynolds and accepts blame for triggering the chain reaction of events.
"It's not what you want," said Mostert.
"You go out there, you try to race hard, try to make passes, but today I absolutely ballsed it up
"It's hard on the drivers that are in the cars but it's especially hard on the crews, too, that have to repair them.
"Definitely with Fabs' car and Davey, I didn't want to see that happen, so I absolutely ballsed it up today.
"I thought he was still on the track on the outside there and I thought I was in second gear when I locked the rears all the way back," Mostert added of the intial incident with Reynolds.
"I actually grabbed neutral on the exit and tried to go and then had to bang first, so I probably made it a lot worse than it had to be and I didn't want to see what happened out there go on."
Coulthard, who was fighting for seventh, believes there was nothing he could have done to avoid the crash having elected to go for the gap to improve his own position.
"What could I have done?," said Coulthard.
"I could have done the half-arsed approach and just followed people, but I'm not about that. I'm a racer. There were two easy passing opportunities, and the racer in me said 'look let's do it, let's go'.
"With Chaz trying to redress and two cars rolling slowly, that was my opportunity to go. I took the opportunity, and unfortunately Reynolds got me in the right rear and I was a passenger from then on in.
"What caused it in my opinion? Chaz and Reynolds made contact, and Chaz knew he made contact and needed to redress it.
"Putting the onus on the driver sometimes works, but when there's five other cars behind it, the redress doesn't work.
"You can be on both sides of the coin; sometimes the redress is a good thing, sometimes it's a bad thing. Today it was a bad thing.
"My understanding that if it's a two-car battle, and you're not going to impede other cars behind, then the redress is safe.
"But in that instance there was more than just Chaz and Reynolds involved. It's pretty black and white."
The Shell V-Power Racing driver has now dropped to third in the championship, 137 points behind leader  Jamie Whincup following the retirement.