Winterbottom finally on top of Prodrive Ford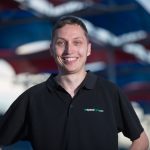 Mark Winterbottom feels comfortable with the set-up of his Prodrive Ford as he aims to end a frustrating campaign with a drought breaking race win.
The 2015 champion has struggled for consistency this season but showed signs of speed at Pukekohe after finishing third in Practice 2 for the ITM Auckland Super Sprint.
Lying seventh in the championship standings, Winterbottom is facing the prospect of a winless season for the first time in more than a decade.
His last race win arrived 12 months ago at the New Zealand circuit.
However, the 36-year-old confirmed today's run was the best the car has been this season.
"It's sort of taken 10 months to get my car to where I feel comfortable and now we can start to get some good results," said Winterbottom.
"We just haven't been quick enough (during the season to date).
"The car hasn't been doing what I want it to do, there's been many dramas, a few mechanical things with brake dramas and a few things but I've just worked through it and you don't give up.
"We have expectations, seventh in the championship's not good enough. It's only now that we're starting to hit our straps.
"It's just trying to find the base set-up, different cars in the team have different set-ups, we just weren't on the right path to running the right thing, and the last four rounds being wet has also hampered us a little bit.
"I just feel we've been behind the eight ball a little bit.
"You chop and change, it's not easy to do at the track, bolt something in and change your driving style to suit that car and what not. It just sort of carried on."
While rain is expected on Saturday, Winterbottom is determined to break the win drought and finish his season on a positive note.
"I've got nothing to race for other than race wins so we'll have a crack and if the car feels like it did today you can definitely push it, and that's a nice feeling," he added.
"You don't hold back, you can sort of have a crack and see what happens.
"It's been a tough year but to finish it off well would be nice and get momentum for next year because I felt the last couple of rounds we got the car where it's starting to make sense it's just taken way too long and it's been frustrating."
Winterbottom's run in the final session was slightly hampered by Shane van Gisbergen, who impeded the Ford driver while on a flying lap.
Van Gisbergen immediately apologised which came as a surprise to the 2013 Bathurst 1000 winner.
"I'm not sure why he apologised, because he does it regularly to a few of us guys (and not apologised)," Winterbottom said.
"To me he did today, it is what it is. I aborted the lap, but it's practice so the drama's not there.
"But it's still kind of a point where you want to have your headlights on, 'get out of the way'.
"The closing speed's huge, he came up, apologised so you just move on."