Whincup: Pukekohe 'like a new circuit' after changes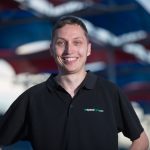 Recent upgrades to the Pukekohe Park Raceway track surface have transformed the venue into almost a 'new circuit', according to Jamie Whincup.
Drivers tested the revamped Auckland circuit for the first time today by undertaking two 40 minute practice sessions.
Sections of the 2.91km circuit have been resurfaced and levelled including the bumpy Turn 1, the back straight between Turns 4-5 and Turn 10.
The championship leader was surprised by how the changes have affected the circuit after the Red Bull Holden driver finished second in Friday's final 40 minute practice session.
Alterations to the track has provided plenty of work for Triple Eight to master set-ups for all three cars.
"The track's got a different dynamic," said Whincup.
"They've resurfaced a couple of areas, completely changed the feel and the layout of the circuit.
"Engineering-wise, we're all going flat-out behind the scenes today to try to get the car suited to what almost feels like a new circuit."
While both sessions were run in the dry, rain is expected on Saturday which Whincup feels will provide even more of a challenge for the drivers.
"Those new sections are going to be pretty hectic in the wet, I'm predicting they'll be really slippery, to be honest," he added.
"Hopefully, if it rains tomorrow, the Safety Car can go out and assess what the back straight's going to be like. If it's all good, we'll go hard.
"Today was supposed to be the worst day, but we were lucky enough to get dry running.
"Who knows, we'll see what happens, try to put the right tyres on at the right time and go hard."
Whincup's team-mate Shane van Gisbergen struggled for pace in opening practice before improving to sixth for the day in the final session.
Title rivals Scott McLaughlin (Shell V-Power Racing) was fourth in the final session, Fabian Coulthard (Shell V-Power Racing) was 14th, and Chaz Mostert was fifth fastest.