CAFE CHAT: De Pasquale on move to Supercars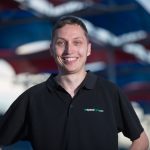 After just two seasons in touring cars Anton De Pasquale will take on Supercars elite next season having penned a deal with Erebus Motorsport.
The highly-rated Dunlop Super2 Series young gun has signed a multi-year contract with the Bathurst 1000 winning team where he will replace Dale Wood.
His Supercars chance has arrived after turning heads in the second tier series following his return from a single seaters foray in Europe in 2016.
After winning the 2013 Australian Formula Ford Championship, the Melbourne driver head to Europe where the won the Formula Renault 1.6 NEC title before a difficult year in the hotly contested Formula Renault 2.0.
A switch to touring cars has ultimately paid off with the 22-year-old catching the eye of Erebus in this year's Dunlop Super2 Series for Paul Morris Motorsport to sit fourth in the standings with a round remaining.
Speedcafe.com's Tom Howard sat down with Supercars' latest recruit as he begins to prepare for his maiden season in the main game.
SPEEDCAFE: Firstly congratulations on your move to Erebus Motorsport. How does it feel to have your 2018 plans sorted already and an opportunity to race in the main game?
ANTON DE PASQUALE: It's always good knowing this early what you are doing next year. A lot of the time you always wait until December/January to find out what you're doing and working on budgets and that, so to have something secured is really good for myself and we can just concentrate on what we need to do.
Firstly, obviously we have another round left in Dunlop Super2 which is our first goal and focus, to try and win that, and then from there just working with all the guys from Erebus and getting what they need out of me and trying to work out the best way to attack next year.
SPEEDCAFE: When do you start to seriously think about what it will be like to race in the Virgin Australia Supercars Championship?
DE PASQUALE: I've been mentally thinking about Supercars for a few years now. You always try and prepare yourself as best as possible for any opportunity that arises so it will be a step up and I think at Adelaide I'll actually understand how much of a step up it is.
Until then you just train your hardest, work your hardest and concentrate on your driving as much as possible and put yourself in the best position to achieve a good result.
SPEEDCAFE: Switching from single seaters to touring cars is a challenge, are you surprised by how quick you have adapted?
DE PASQUALE: Yes and no. I've always had the goal of trying to get there (Supercars) as quick as possible, and obviously with the support of Paul and the team at Paul Morris Motorsports has made that possible too. He's kind of coached me through I think pretty well.
We had the opportunity to do the test and then from there things just happened and played out the way they did. Like I said, I'm pretty lucky to get the opportunity at the right time but we're all working for it and every driver is trying to achieve it, so we're just one of the lucky ones who got there for now.
SPEEDCAFE: Do you think that your two-year stint in Europe has helped you develop as a driver?
Definitely. On a personal basis you learn quite a lot being in a different environment, racing overseas, no parents, no friends, you are just sort of with teams that don't really understand much English and things like that too.
There's a lot of things you need to overcome to achieve results over there being from Australia so far away.
And then I think on a personal level I'm probably better than what I was before I left and that set me up to do well in the Super2 so early.
Erebus team manager Barry Ryan obviously has seen what I've done over there and I think he likes that credentials also which has just sort of helped me get a little bit of an opportunity here again.
SPEEDCAFE: Does this move vindicate your decision to make the tough call to abandon plans in Europe and switch to touring cars?
DE PASQUALE: Yeah, 100 percent. We kind of had a chat, myself, my parents, at the middle of that year (2015). It was obviously a very expensive process and very difficult to get support overseas because you're so far away from everything.
We kind of thought we could keep going and get to an end. However, we made the call that we've done what we needed to do, it wasn't really realistic that we're going to make it to Formula 1 or something like that.
Coming home was always a possibility and something which I've always dreamed of anyway, and so we made that call, rather than being a little bit too late, while I'm still fresh and a with little bit of momentum.
SPEEDCAFE: You arrive at Erebus Motorsport having already impressed the team at an evaluation day in August, does that help the transition to Supercars?
DE PASQUALE: The evaluation test day was really good for myself and I think Erebus. We went through a lot of things for them, that they wanted to get through this year, and then obviously I set myself up for a drive now.
So, knowing all the guys there and sort of knowing already a little bit about the team and how it operates is obviously a little bit of a head start. Obviously having their support is great, and having a team believe in you is always good, so I have to give them back what they've given me.
SPEEDCAFE: How do you approach your maiden season in Supercars next year?
DE PASQUALE: It's one of those things, you always try and set your goals very realistic and obviously massive respect to all the other drivers in the field. It's going to be very difficult but natural instinct as a race driver is you want to be on the top step.
That might not be possible straight up but I'll be working as hard as I can to work out a way to get there as soon as possible.
I have realistic goals for now and we will see how it all pans out after the first few rounds and take it as it goes and work with the team to achieve what we need to do.
SPEEDCAFE: Are you excited to race against Supercars' elite?
DE PASQUALE: It's very exciting. Obviously a lot of the guys you'll be racing against are the guys you've been looking up to the last few years of watching Supercars, and while I was in Karting they were winning championships and things, so to be racing against them is obviously very exciting
I just have to take it as I can but at the same time everyone's just a competitor and we're just trying to achieve the same thing. I will be trying to race too.