LDM looking to be Prodrive 'satellite' team in 2018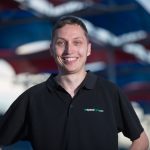 Lucas Dumbrell believes his eponymous Supercars squad could emerge into a Prodrive satellite team next year as the operation's shake up for 2018 continues.
The Melbourne squad is in the process of a transformation for next season courtesy of a buy-in by Australian businessman Phil Munday, which will include a rebrand, new equipment and a move to new premises.
As previously reported, the squad is planning to run a single car Supercars outfit aided by a customer arrangement with Prodrive, which is edging closer to completion.
The deal will see the squad switch from ageing Holden Commodores to a Prodrive Falcon FGX, which could be piloted by a driver linked to the Ford squad.
Dumbrell says progress on the new look team, expected to revealed in the lead up to the Coates Hire Newcastle 500, is gathering momentum, and is excited at the potential a link with Prodrive will provide.
"Phil (Munday) and I have managed to nail down quite a lot and Prodrive have been good to dedicate time to us to discuss bits and pieces," Dumbrell told Speedcafe.com.
"We are getting closer to nailing down, confirming and signing agreements. I think we both have a true understanding of how it is going to work.
"I'm really happy and excited by what they have put forward.
"We will have an equal car to any of their Falcons and it will truly be like a satellite operation.
"We are not going to be two or three steps behind the eight ball with the development train."
The identity of the team's 2018 recruit is yet to be secured although Dumbrell says talks are being held with Prodrive linked drivers.
It is believed 2016 Dunlop Super2 Series driver Garry Jacobson and Prodrive's former second tier racer Jack Le Brocq are among candidates linked to the seat.
Current Prodrive co-driver Richie Stanaway has also been touted as a possibility having emerged as an option to replace Alex Rullo for the remainder of the season following his exit, which was confirmed yesterday.
"There are a couple of guys (we have been speaking to)," added Dumbrell.
"We have chatted to Prodrive about who they have got in the stable and there are a couple guys on the cards.
"But we are more focussed on running down the technical side of things to make sure we have got the best of what is available."
Lucas Dumbrell Motorsport will field Commodores for Jack Perkins and Aaren Russell at this weekend's ITM Auckland Super Sprint.
Perkins will replace Rullo in the #62 after the team confirmed a termination of the agreement with the Perth teenager.