Rullo exploring Supercars, overseas options after LDM exit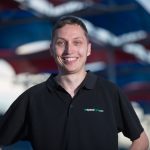 Alex Rullo has no regrets following his split with Lucas Dumbrell Motorsport and is already assessing his options both in Australia and overseas for next season.
The Perth teenager and the Melbourne team have parted ways ahead of this weekend's penultimate round of the season at the ITM Auckland Super Sprint in New Zealand.
Rullo became the youngest driver to compete in the main game when he joined the team on a two-year agreement at the start of the season.
However, LDM communicated to Rullo at the Gold Coast 600 that he was no longer part of their plans for next year.
The 17-year-old admits he is disappointed not to see out a maiden year in Supercars having made the trip to Auckland with the intention of driving this weekend.
Rullo says he wishes to remain in Supercars next year but is exploring options including the British Touring Car Championship.
"I guess it is a little disappointing and it would have been good to learn Pukekohe and Newcastle as they are tracks that I haven't been to," Rullo told Speedcafe.com.
"It is never good if you don't finish the year but I'm not too fussed and move forward with negotiations with our options for next year.
"We came to New Zealand to fill out our end of the contract and it was then terminated.
"I will grab with both hands whatever the best option is.
"There are talks in Supercars and other places across the globe. I will see where that takes me.
"I've been driving Supercars the last few years since I was 14-years-old so it would be good to stay in them.
"I love the series and I would like to stay but if there is a better opportunity overseas for sure I will take that.
"At the moment there are a few talks with British touring car teams and we will see where that takes me but I'm exploring all options.
"I will be doing a bit of homework over the next few weeks to see what there is in Asia and Europe."
Rullo will head back to his native Perth tomorrow but maintains he is happy with the progress made this season at LDM.
"This year has been good in terms of learning and that was our main goal," added Rullo.
"I think I have achieved that and the two-year contract was to first learn the series and then upgrade the car for the second year and have a crack.
"There are no regrets this year and I feel it has definitely leapfrogged me in terms of experience in front of the Dunlop Series guys.
"Whether I stay in Supercars or not, it is going to help me move my career forward."
Disappointed to see Rullo leave the team, Lucas Dumbrell says he believes the young gun has a future in Supercars.
"There is no issue with Alex I think he has a future in the category no doubt," added Dumbrell.
"He would have improved a lot having this year under his belt. He also now knows what it is like to race in the main game and how cut throat it is.
"I think he will be a better driver wherever he lands because of it.
"It is an unfortunate thing and it is disappointing for both of us."
Jack Perkins has been confirmed as Rullo's replacement in the #62 entry for the remainder of the season.