McLaughlin to give his all for 'special' home win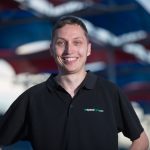 Scott McLaughlin believes there will be no added pressure to deliver in front of his home fans as he prepares to push for a "special" victory at the ITM Auckland Super Sprint.
The Shell V-Power Racing driver returns to his New Zealand roots in contention for a maiden Supercars crown just 27 points shy of championship leader Jamie Whincup (Red Bull Holden).
Auckland's Pukekohe Raceway holds special memories for McLaughlin being his home circuit and the venue where he was introduced to Supercars in his formative years.
It is also the scene of an emotional maiden Supercars race win, driving for Garry Rogers Motorsport in 2013.
Since then a coveted Pukekohe race win has alluded the Kiwi who is determined to add to that tally.
Expected to be boosted by a partisan crowd, McLaughlin is hoping the support will give him an extra lift as the season reaches its crucial penultimate round.
The 24-year-old is one of three New Zealanders in the title hunt with team-mate Fabian Coulthard second in the standings, while reigning champion Shane van Gisbergen is 189 points adrift in fifth.
"The Kiwi boys always get a massive stir from the crowd. I will be giving it my all this weekend," McLaughlin told Speedcafe.com.
"I put more pressure on myself than anyone puts on me.
"At the end of the day I want to perform in front of my family and I only get one time a year to have a go in New Zealand.
"It is massive. I have just got to keep doing what I have been and the fans will be pretty happy.
"It would be special to win at home and not only because I haven't won there since 2013, but to get a result to add to the championship would be fantastic.
"It is a crucial time of year for us and we just need to keep focussing as a team.
"For us to be in that position is great but we have got a long way to go to finish it off obviously."
Meanwhile, the circuit and the event has undergone changes for this weekend which should provide an added variable for the drivers to contend with this year.
Sections of the track have been resurfaced in recent weeks.
The high-speed opening and final corners have been levelled in a bid to reduce the bumps in the surface, while the back straight between Turns 4 and 5 and the pit lane have been completely resurfaced.
Coupled with the track changes, the event will run two 70 lap races incorporating pit stops to take advantage of newly built pit garages.
In previous years the event has utilised a sprint race format.
McLaughlin expects the changes to add to the spectacle for drivers and fans.
"I haven't seen it yet but if it has taken some of the bumps away then it definitely changes the way you approach the track a little bit set-up wise. It is the same for everyone," he added.
"It is awesome that they have brought the pit stops back.
"It was a little bit processional last year. Being a high-speed track it is quite hard to pass but if you are on different strategies it can throw things around.
"Pukekohe has one of the coolest pit entries too so it should be exciting."
The ITM Auckland Super Sprint will begin on Friday with opening practice scheduled for 1115 local time.