Supercars seeking govt funding to kick-off Super5000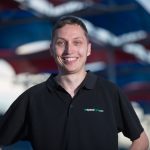 Supercars is continuing to lobby the Queensland government for funding to kick start the new Super5000 series with a feature race at next year's Gold Coast 600.
The new Formula 5000 open wheel category conducted demonstration laps with its two candidate cars at last weekend's event to showcase the new series to government officials and fans.
Plans for the new Super5000 series remain in their infancy with a technical package yet to be confirmed, while only one car has been sold, and a calendar to be decided.
The formation of the series has endured a difficult birth which has resulted in Super5000 and rival series Formula Thunder 5000 completing a merger.
THE FINAL RACE OF THE 2023 REPCO SUPERCARS CHAMPIONSHIP ON ONE OF THE WORLD'S BEST STREET CIRCUITS. GO ALL IN AT THE VAILO ADELAIDE 500, CLICK HERE TO BUY TICKETS
Each have designed bespoke cars which will also complete demo laps at next weekend's ITM Auckland Super Sprint at Pukekohe, with Greg Murphy likely to pilot the former Formula Thunder 5000 car.
Supercars believes Super5000 would provide added excitement to its support card and in particular the Surfers Paradise event, which hosted IndyCar annually from 1991-2008.
Outgoing Supercars CEO James Warburton believes government support will be crucial to initially establish the new series before it can grow into a fully fledged support category.
Speedcafe.com understands tentative discussions were held during the event last weekend.
While the series is being managed by Brian Boyd (PAYCE Consolidated), John McMellan (Wilson Security) and Chris Lambden (Formula Thunder 5000), Supercars retains the management rights to Super5000.
"It is really about talking to governments and see if there is appetite for it to be a feature race (at events like the Gold Coast 600)," Warburton told Speedcafe.com.
"We have said from the outset that we don't want to be involved in running the series.
"It is an interesting, important entertainment factor in terms of our category, and we are in the market and that will decide the future of the category.
"There is lots of interest but interest is one thing, and that needs to convert into genuine funding."
While funding could be a key factor in whether the series eventuates, deciding a technical package is the next key hurdle to overcome.
Both the original Super5000 car and the newly re-configured Formula Thunder 5000 chassis ran for the first time together at the Vodafone Gold Coast 600.
The former features a retro Formula 5000 look with the car powered by a V8 Supercars engine and gearbox.
Prior to the Gold Coast outing it had completed 1000km of trouble free running in testing, although it suffered an engine misfire, thought to be caused by a tuning change during runs last weekend.
Prodrive Racing Australia co-owner Rusty French has already purchased the first prototype for Thomas Randle to run in the series.
The Formula Thunder 5000 chassis, funded by former publisher and racer Lambden, offers a more modern look, which was further enhanced by a new airbox.
It has also undergone extensive testing and is powered by a Coyote V8, which is understood to be cheaper to run.
Lambden was content with the feedback regarding the new look of his car, but maintains that decisions need to be made sooner rather than later if the series is to begin next year.
"The change to the low airbox was something they (Supercars) wanted to try to see how it looked and how it went, and overall the response was very good," Lambden told Speedcafe.com.
"The run last week was all part of the process (of finalising the technical package).
"My suggestion is that those decisions need to be reasonably soon to get things underway.
"Since the weekend we have had another couple of enquiries.
"We are just keeping these people informed in the meantime until we can place something in front of them, and that involves finalising the mechanical side of things and Supercars committing to provisional dates."