Ricciardo expects Mexico engine penalty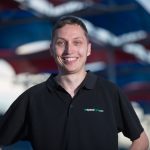 Daniel Ricciardo expects to start this weekend's Mexican Grand Prix from the back of the grid after suffering an engine failure in Austin.
The Red Bull driver was embroiled in a hard fought scrap over third position with Mercedes' Valtteri Bottas in the opening laps of the United States Grand Prix.
However, his race came to a premature end when his Renault engine developed a fault on Lap 15 that saw the Australian grind to a halt.
Although the team is yet to reveal the full extent of the failure, Ricciardo is bracing for a engine change and the subsequent grid penalty.
"I think we'll probably have to take a penalty which means that I will start at the back in Mexico," said Ricciardo.
"I'll do my best to try and charge through the field and you'll hopefully see more of today in Mexico."
While disappointed to see his podium challenge curtailed, the five-time grand prix race winner enjoyed his battle with Bottas.
"It's obviously never nice to be out of the race early," said Ricciardo.
"I think I tried to get the most out of it today and the laps I raced were fun but also frustrating.
"I felt that, especially earlier on, we were quicker than Valtteri, but I always had to come from so far back that it was never going to be an easy move.
"I tried a lot of times to make it stick but could never quite manage it.
"I wasn't going to drive behind him all weekend wondering what could have been, so I don't have any regrets with the moves I tried.
"It's just frustrating to not continue that battle. I did enjoy it out there though.
"Every time I tried to overtake Valtteri he would just slip back underneath me and I thought: alright let's try again."
Ricciardo heads to Mexico fourth in the championship standings.