McLaughlin/Premat score stunning comeback win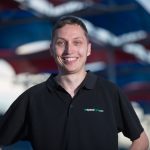 Scott McLaughlin and Alex Premat produced an impressive comeback drive to score a crucial victory in Race 22 of the Vodafone Gold Coast 600.
The #17 Falcon climbed from 13th on the grid after qualifying struggles to take victory after making the most of a strong opening stint and an inspired pit strategy and drive from McLaughlin.
Co-driver Alex Premat drove superbly to hand over to McLaughlin in fourth spot, but it was the decision to pit early on lap 59 that set up the win.
The undercut proved successful as the Kiwi took the lead from Jamie Whincup, who led every lap until that moment, following a strong start from Paul Dumbrell.
THE FINAL RACE OF THE 2023 REPCO SUPERCARS CHAMPIONSHIP ON ONE OF THE WORLD'S BEST STREET CIRCUITS. GO ALL IN AT THE VAILO ADELAIDE 500, CLICK HERE TO BUY TICKETS
Despite question marks over fuel, McLaughlin held firm under pressure from Whincup and Shane van Gisbergen to take the win in a Safety Car free race held in dry conditions.
Whincup came home second with van Gisbergen third after the #97 entry had occupied second until the final round of stops.
Meanwhile, Prodrive's Chaz Mostert and Steve Owen took out the Pirtek Enduro Cup after finishing seventh.
The victory has seen Whincup open up a 17 point lead over Fabian Coulthard in the championship after the Kiwi recovered to ninth from 22nd on the grid.
McLaughlin is just 27 points adrift in third after taking his first win since Queensland Raceway in August.
All co-drivers except Erebus' Dale Wood took the start that saw Dumbrell jump team-mate and pole-sitter Matt Campbell (#97 Triple Eight), while Steven Richards (#888 Triple Eight) slotted into third.
Richie Stanaway (#6 Prodrive) made ground from seventh to fourth in the opening stint ahead of Dean Canto (Prodrive) and Premat, who quickly climbed from 13th to sixth.
Jack Perkins fell from fourth to seventh as he battled an issue with his Mobil 1 HSV Racing Commodore.
While Dumbrell enjoyed a comfortable lead over Campbell at the front, drama struck Stanaway when he made a lunge on Richards at Turn 4 just before the first round of stops.
The Kiwi bent a steering arm after contact with the Triple Eight, which saw him crawl into the pits, while the lead group ducked in for service and a driver change.
Prodrive were able to fix the Falcon but lost two laps in the process.
Whincup took over the #88 in the lead from Dumbrell with team-mate van Gisbergen in second and Lowndes in third.
The #17 Falcon rejoined the race in fourth with McLaughlin at the wheel, after Premat's strong opening stint.
Mark Winterbottom occupied fifth ahead of James Courtney, while an impressive performance from Tony D'Alberto handed Coulthard ninth spot after the first pit stops.
Whincup increased his lead to 4.5s prior to the second compulsory stops having been aided by a drop off in pace for van Gisbergen.
Van Gisbergen was able to recover and bring the gap back to three seconds, before pitting to cover off McLaughlin, who went for an aggressive undercut.
The strategy worked as he rejoined ahead of van Gisbergen and Lowndes in second.
Second then became the lead after Whincup stopped on lap 64 before rejoining behind the #17 Ford.
McLaughlin opened up a 1.1s lead Whincup with van Gisbergen a second further back.
However, he maintained the position to take the victory from the Triple Eight duo.
Lowndes brought the #888 home in fourth ahead of Winterbottom and Canto in fifth, and Courtney and Perkins in sixth.
Mostert and Owen were seventh while Lee Holdsworth and Karl Reindler took eighth.
The top 10 was completed by Nick Percat and Macauley Jones (Brad Jones Racing).
After scoring a deserved third place finish yesterday, the Freightliner Racing Holden of Tim Slade and Andre Heimgartner was an early casualty.
Heimgartner was turned around by Nissan's Dean Fiore at Turn 11 which resulted in damage as the former was sent backwards into the wall.
It returned to the race 17 laps down before finishing in 23rd spot behind Cameron Waters and Richie Stanaway in 21st spot.
Reigning Bathurst 1000 winners David Reynolds and Luke Youlden also hit drama, when Youlden found the wall hard at the Beach chicane on Lap 14 , causing terminal damage to the right side of the Holden.
The championship heads to New Zealand for the ITM Auckland Super Sprint from November 3-5.
Results: Virgin Australia Supercars Championship Vodafone Gold Coast 600 Race 22
| | | | | | |
| --- | --- | --- | --- | --- | --- |
| 1 | Shell V-Power Racing Team | S.McLaughlin/A.Premat | Ford Falcon FG/X | 102 | 2:05:17.3924 |
| 2 | Red Bull Holden Racing Aust | J.Whincup/P.Dumbrell | Holden Commodore VF | 102 | 2:05:18.8676 |
| 3 | Red Bull Holden Racing Aust | S.Van Gisbergen/M.Campbell | Holden Commodore VF | 102 | 2:05:19.9094 |
| 4 | TeamVortex | C.Lowndes/S.Richards | Holden Commodore VF | 102 | 2:05:38.4415 |
| 5 | The Bottle-O Racing Team | M.Winterbottom/D.Canto | Ford Falcon FG/X | 102 | 2:05:43.2090 |
| 6 | Mobil 1 HSV Racing | J.Courtney/J.Perkins | Holden Commodore VF | 102 | 2:05:45.8307 |
| 7 | Supercheap Auto Racing | C.Mostert/S.Owen | Ford Falcon FG/X | 102 | 2:05:48.8329 |
| 8 | Preston Hire Racing | L.Holdsworth/K.Reindler | Holden Commodore VF | 102 | 2:05:48.9755 |
| 9 | Shell V-Power Racing Team | F.Coulthard/T.D'Alberto | Ford Falcon FG/X | 102 | 2:05:49.3921 |
| 10 | Boost Mobile | N.Percat/M.Jones | Holden Commodore VF | 102 | 2:06:01.9458 |
| 11 | Sengled Racing | R.Kelly/D.Wall | Nissan Altima | 102 | 2:06:09.9539 |
| 12 | carsales Racing | T.Kelly/J.Le Brocq | Nissan Altima | 102 | 2:06:10.9037 |
| 13 | Mobil 1 HSV Racing | S.Pye/W.Luff | Holden Commodore VF | 102 | 2:06:18.5210 |
| 14 | TEKNO Woodstock Racing | W.Davison/J.Webb | Holden Commodore VF | 102 | 2:06:19.6463 |
| 15 | Nissan Motorsport | M.Caruso/D.Fiore | Nissan Altima | 102 | 2:06:27.3579 |
| 16 | MEGA Racing | J.Bright/G.Jacobson | Ford Falcon FG/X | 101 | 2:05:21.9426 |
| 17 | Wilson Security Racing GRM | G.Tander/J.Golding | Holden Commodore VF | 101 | 2:05:24.6401 |
| 18 | Erebus GB Galvanizing Racing | D.Wood/C.Pither | Holden Commodore VF | 101 | 2:05:36.4051 |
| 19 | Wilson Security Racing GRM | J.Moffat/R.Muscat | Holden Commodore VF | 101 | 2:05:38.9933 |
| 20 | Team CoolDrive | T.Blanchard/T.Hazelwood | Holden Commodore VF | 101 | 2:06:23.6958 |
| 21 | Monster Energy Racing | C.Waters/R.Stanaway | Ford Falcon FG/X | 100 | 2:06:13.8097 |
| 22 | Freightliner Racing | T.Slade/A.Heimgartner | Holden Commodore VF | 85 | 2:06:13.8238 |
| 23 | Team Harvey Norman | S.De Silvestro/D.Russell | Nissan Altima | 85 | 2:06:43.0889 |
| DNF | Repair Management Aust Racing | A.Rullo/A.Davison | Holden Commodore VF | 20 | 25:46.3993 |
| DNF | Erebus Penrite Racing | Luke Youlden | Holden Commodore VF | 15 | 53:47.0248 |
| DNF | Plus Fitness Racing | A.Russell/T.Douglas | Holden Commodore VF | 8 | 1:07:18.9164 |
Championship points
| | | |
| --- | --- | --- |
| 1 | Jamie Whincup | 2580 |
| 2 | Fabian Coulthard | 2563 |
| 3 | Scott McLaughlin | 2553 |
| 4 | Chaz Mostert | 2454 |
| 5 | Shane Van Gisbergen | 2391 |
| 6 | Craig Lowndes | 1950 |
| 7 | Mark Winterbottom | 1872 |
| 8 | Cameron Waters | 1858 |
| 9 | David Reynolds | 1857 |
| 10 | Garth Tander | 1830 |
| 11 | Scott Pye | 1504 |
| 12 | Michael Caruso | 1476 |
| 13 | Tim Slade | 1449 |
| 14 | Rick Kelly | 1434 |
| 15 | Will Davison | 1386 |
| 16 | Lee Holdsworth | 1359 |
| 17 | James Moffat | 1326 |
| 18 | James Courtney | 1320 |
| 19 | Todd Kelly | 1287 |
| 20 | Jason Bright | 1284 |
| 21 | Nick Percat | 1215 |
| 22 | Tim Blanchard | 1071 |
| 23 | Dale Wood | 1035 |
| 24 | Simona De Silvestro | 927 |
| 25 | Steve Owen | 660 |
| 26 | James Golding | 624 |
| 27 | Tony D'Alberto | 612 |
| 28 | Richie Stanaway | 594 |
| 29 | Alex Rullo | 594 |
| 30 | Matthew Campbell | 591 |
| 31 | Paul Dumbrell | 534 |
| 32 | Steven Richards | 504 |
| 33 | Warren Luff | 498 |
| 34 | Alexandre Premat | 495 |
| 35 | Jack Le Brocq | 485 |
| 36 | Dean Fiore | 465 |
| 37 | Luke Youlden | 462 |
| 38 | Chris Pither | 462 |
| 39 | Garry Jacobson | 417 |
| 40 | Jack Perkins | 417 |
| 41 | David Wall | 408 |
| 42 | Jonathon Webb | 372 |
| 43 | Dean Canto | 369 |
| 44 | Macauley Jones | 345 |
| 45 | Andre Heimgartner | 336 |
| 46 | Todd Hazelwood | 333 |
| 47 | Taz Douglas | 306 |
| 48 | Alex Davison | 297 |
| 49 | Richard Muscat | 291 |
| 50 | Karl Reindler | 270 |
| 51 | David Russell | 195 |
| 52 | Aaren Russell | 177 |
| 53 | Shae Davies | 153 |
| 54 | Cameron McConville | 81 |
| 55 | Matthew Brabham | 57 |
| 56 | Ashley Walsh | 0 |
Pirtek Enduro Cup: 2017 results
| | | |
| --- | --- | --- |
| 1 | Chaz Mostert/Steve Owen | 660 |
| 2 | Fabian Coulthard/Tony D'Alberto | 612 |
| 3 | Cameron Waters/Richie Stanaway | 594 |
| 4 | Shane van Gisbergen/Matthew Campbell | 591 |
| 5 | Jamie Whincup/Paul Dumbrell | 534 |
| 6 | Craig Lowndes/Steven Richards | 504 |
| 7 | Scott Pye/Warren Luff | 498 |
| 8 | Scott McLaughlin/Alexandre Premat | 495 |
| 9 | Michael Caruso/Dean Fiore | 465 |
| 10 | David Reynolds/Luke Youlden | 462 |
| 11 | Dale Wood/Chris Pither | 462 |
| 12 | Garth Tander/James Golding | 462 |
| 13 | Jason Bright/Garry Jacobson | 417 |
| 14 | James Courtney/Jack Perkins | 417 |
| 15 | Rick Kelly/David Wall | 408 |
| 16 | Todd Kelly/Jack Le Brocq | 375 |
| 17 | Will Davison/Jonathon Webb | 372 |
| 18 | Mark Winterbottom/Dean Canto | 369 |
| 19 | Tim Slade/Andre Heimgartner | 333 |
| 20 | James Moffat/Richard Muscat | 291 |
| 21 | Lee Holdsworth/Karl Reindler | 270 |
| 22 | Tim Blanchard/Todd Hazelwood | 243 |
| 23 | Simona De Silvestro/David Russell | 198 |
| 24 | Nick Percat/Macauley Jones | 198 |
| 25 | Alex Rullo/Alex Davison | 156 |
| 26 | Aaren Russell/Taz Douglas | 108 |
| 27 | Tim Slade/Ash Walsh | 0 |