Dumbrell fastest in co-driver practice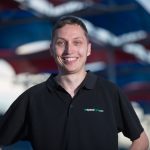 Paul Dumbrell put the Red Bull Holden Racing Team on top in the co-driver practice session at the Vodafone Gold Coast 600.
The #88 Red Bull Holden proved the benchmark for the 30 minute session on the streets of Surfers Paradise.
Dumbrell set the pace from the outset before going on to improve to 1:11.14s, which was less than a tenth slower than the time Chaz Mostert set to top opening practice.
Talented New Zealander Richie Stanaway popped up into second spot just 0.16s shy of Dumbrell in the #6 Monster Energy Prodrive Ford.
"The car is feeling pretty good," said Stanaway.
"(I) didn't have the cleanest run in the first session, we were quite high on fuel and didn't really have that matched with tyre life.
"We put some reasonable tyres on in that session and the car is feeling pretty good.
"Not sure how relevant it is gonna be if the weather mixes it up a bit."
Tony D'Alberto guided the #12 Shell V-Power Racing Ford into third spot late on, while Chris Pither impressed to claim fourth in the #99 Erebus Motorsport Holden.
Prodrive's run of strong form continued with Dean Canto in the #5 Falcon fifth, in front of team-mate Steve Owen in the #55 Supercheap Ford.
Matt Campbell survived a scrape with the wall to finish seventh in the #97 Red Bull Holden and Jack Le Brocq put the Carsales Racing Nissan Altima into eighth.
The top 10 was rounded out by James Golding (#33 Garry Rogers Motorsport) and Alex Premat in the #17 Shell Ford.
Premat was among a group of drivers who picked up kerb hops for shortcutting the beachside chicane.
He clocked seven during the session which resulted in lap times being rescinded by the officials.
Meanwhile, Steve Richards was 14th in the TeamVortex Commodore he shares with Craig Lowndes.
The primary drivers will jump back behind the wheel for Practice 3, which is scheduled to start at 1655 local time.
Results: Virgin Australia Supercars Championship Vodafone Gold Coast 600 Practice 2
| | | | | | |
| --- | --- | --- | --- | --- | --- |
| 1 | Red Bull Holden Racing Aust | Paul Dumbrell | Holden Commodore VF | 1:11.1445 | |
| 2 | Monster Energy Racing | Richie Stanaway | Ford Falcon FG/X | 1:11.3143 | 0.1698 |
| 3 | Shell V-Power Racing Team | Tony D'Alberto | Ford Falcon FG/X | 1:11.4371 | 0.2926 |
| 4 | Erebus GB Galvanizing Racing | Chris Pither | Holden Commodore VF | 1:11.4725 | 0.3280 |
| 5 | The Bottle-O Racing Team | Dean Canto | Ford Falcon FG/X | 1:11.5324 | 0.3879 |
| 6 | Supercheap Auto Racing | Steve Owen | Ford Falcon FG/X | 1:11.6177 | 0.4732 |
| 7 | Red Bull Holden Racing Aust | Matthew Campbell | Holden Commodore VF | 1:11.6192 | 0.4747 |
| 8 | carsales Racing | Jack Le Brocq | Nissan Altima | 1:11.6326 | 0.4881 |
| 9 | Wilson Security Racing GRM | James Golding | Holden Commodore VF | 1:11.6730 | 0.5285 |
| 10 | Shell V-Power Racing Team | Alexandre Premat | Ford Falcon FG/X | 1:11.6964 | 0.5519 |
| 11 | Mobil 1 HSV Racing | Warren Luff | Holden Commodore VF | 1:11.7197 | 0.5752 |
| 12 | Freightliner Racing | Andre Heimgartner | Holden Commodore VF | 1:11.7343 | 0.5898 |
| 13 | Erebus Penrite Racing | Luke Youlden | Holden Commodore VF | 1:11.8080 | 0.6635 |
| 14 | TeamVortex | Steven Richards | Holden Commodore VF | 1:11.8101 | 0.6656 |
| 15 | Sengled Racing | David Wall | Nissan Altima | 1:11.8486 | 0.7041 |
| 16 | Nissan Motorsport | Dean Fiore | Nissan Altima | 1:11.9024 | 0.7579 |
| 17 | Boost Mobile | Macauley Jones | Holden Commodore VF | 1:11.9097 | 0.7652 |
| 18 | Team Harvey Norman | David Russell | Nissan Altima | 1:12.0162 | 0.8717 |
| 19 | Plus Fitness Racing | Taz Douglas | Holden Commodore VF | 1:12.1389 | 0.9944 |
| 20 | Mobil 1 HSV Racing | Jack Perkins | Holden Commodore VF | 1:12.1512 | 1.0067 |
| 21 | Repair Management Aust Racing | Alex Davison | Holden Commodore VF | 1:12.3396 | 1.1951 |
| 22 | Preston Hire Racing | Karl Reindler | Holden Commodore VF | 1:12.3561 | 1.2116 |
| 23 | TEKNO Woodstock Racing | Jonathon Webb | Holden Commodore VF | 1:12.4114 | 1.2669 |
| 24 | Wilson Security Racing GRM | Richard Muscat | Holden Commodore VF | 1:12.8236 | 1.6791 |
| 25 | MEGA Racing | Garry Jacobson | Ford Falcon FG/X | 1:13.1194 | 1.9749 |
| 26 | Team CoolDrive | Todd Hazelwood | Holden Commodore VF | 1:13.2919 | 2.1474 |