Carrera Cup Aus sells entire fleet of new race cars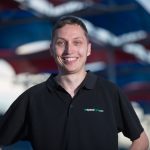 Porsche Carrera Cup Australia is set for a bumper grid next season after confirmation it has sold its allocation of new specification race cars.
The series has announced today that a fleet of 24 new 911 GT3 Cup cars have been purchased by drivers and teams ahead of its introduction in 2018.
Carrera Cup's latest iteration of race car will feature an increase in power which is expected to be 1.5s per lap faster around Mount Panorama.
Due to an increase in demand to join the category, an additional two cars, initially earmarked for Porsche driver training, have now been set aside for prospective competitors.
Carrera Cup Australia has confirmed the grid will feature a 50/50 split between pro and pro-am drivers with the latter class to have exclusive use of ABS.
It is expected that category will continue to run two classes next season instead of a move to three announced earlier this year.
"We're thrilled to announce that we're fully subscribed for the 2018 Carrera Cup season, especially as we have not yet completed the current Porsche racing season," said Porsche Cars Australia Director of Marketing & Motorsport, Toni Andreevski.
"Porsche has built a strong foundation for Carrera Cup over the past few seasons and the forthcoming introduction of the new 911 GT3 Cup race car has been the catalyst for many customers to commit to the 2018 Carrera Cup season.
"We look forward to ultimately handing over the fleet of 911 GT3 Cup cars in January next year to our 2018 Carrera Cup customers and seeing them on the grid at the 2018 season opening event."
Drivers and teams will pick up their new cars at a  special handover event at Sydney Motorsport Park on January 24 next year.
The 2017 Carrera Cup Australia title will be decided this weekend at the Vodafone Gold Coast 600.