Jones: Supercars must choose new CEO carefully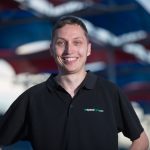 Supercars board member and team owner Brad Jones says the championship must choose carefully when appointing a new CEO following James Warburton's departure.
The series will begin its search for new leadership after Monday's announcement confirmed that Warburton will leave the category after four and half years in charge.
It is believed Warburton wished to continue his role but a dispute regarding an new improved three-year deal has triggered his decision to leave.
Warburton's exit has been been met with disappointment from the majority of the paddock, who saw the former Network Ten boss as a key figure in Supercars' recent rise, having been credited for securing a lucrative $241 million television deal in 2014.
THE FINAL RACE OF THE 2023 REPCO SUPERCARS CHAMPIONSHIP ON ONE OF THE WORLD'S BEST STREET CIRCUITS. GO ALL IN AT THE VAILO ADELAIDE 500, CLICK HERE TO BUY TICKETS
The deal, which has benefited teams and Supercars minority shareholders financially, has been hailed as one of his key achievements during in his tenure.
After a period of four CEO's in five years prior to Warburton's appointment, Jones says choosing a successor should be handled with care and utmost importance.
"For me we need to pick the next one very carefully," Jones told Speedcafe.com.
"We've had the odd couple of swings and misses when it comes to the CEO.
"Clearly for me James is the best one we've had since Wayne Cattach (1997-2008), and we need to make sure we get another guy who is well up to speed with the job.
"I'm sure there is someone out there and the onus is on us to find that person."
Speedcafe.com has been told there is no firm timeline for appointing a new CEO and it is understood that Warburton will play a role in assisting in the search for a successor.
The possibility of a change of management structure is also being discussed which could see the championship appoint a executive chairman or an interim CEO, while a permanent candidate is found.
It is understood Warburton, who will remain in charge until December 22, wishes to fulfil his objective of securing an Asian race for 2019 before he departs.
Meanwhile, Prodrive co-owner Rod Nash believes that Warburton will be difficult to replace.
"As much as we're disappointed to lose his expertise, we'll also miss his really likeable style," Nash told Speedcafe.com.
"He's a good face for Supercars and can easily liaise with people at all levels. One of the things I've really liked – and will miss – is that he's taken a real interest in the teams.
"Unlike his predecessors, he has absolutely taken the time to work with the teams and he's cut deals for the teams. He's genuinely worked hard at understanding the sustainability of the sport.
"A good finger-on-the-pulse type of person."
Warburton's departure is one of several changes to Supercars management announced recently.
Supercars managing director Matt Braid will also leave his role at the end of the season, while Steve Horne is set to depart as chairman of the Supercars Commission.