Slade 'back to life' after Bathurst dehydration scare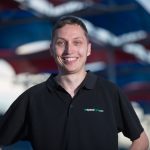 Tim Slade has thanked medical staff for their care after he was forced to abandon the Supercheap Auto Bathurst 1000 due to a dehydration scare from overheating in his Freightliner Racing Commodore.
The Brad Jones Racing driver was left to fight rising cabin temperatures without the use of a cool suit and helmet fan for the run home to the chequered flag from lap 95.
His team had been unable to top up the dry ice for his cool suit during pit stops as they focussed on ensuring visibility was clear due to a fogging windscreen.
The conditions pushed Slade to his limit but the heat took its toll, prompting him to lose concentration and spin at Griffins Bend, before the team pulled him out of the car for safety reasons on lap 153.
Substitute co-driver Andre Heimgartner managed to bring the car home in ninth position.
Slade visited the circuit's medical centre where he was placed on a drip to replenish fluids while his core body temperature was reduced.
"I definitely know that it's been a tough old slog," Slade, who suffered a similar issue at the Gold Coast in 2014, told Speedcafe.com after the race.
"We just had some bad fogging dramas going on with the screen so every of those early pit stops, the boys were flat-out trying to fix that and at that point cooling was working fine until the helmet fan and the coolsuit and everything else.
"Basically when I jumped back in to come home, the helmet fan wasn't working and we've got sort of minimal ducting in the car for this weekend as well so there was no cooling.
"The medical team took good care of me and brought my temperature back down, and the drip as well was able to rehydrate me.
"I was in there for a while, I think just because it took the temp so long to come back down but I'm back with it, back to life.
"When you get like that you're just depleted, so a bit tired.
"Once you're like that you just sort of can't concentrate and make stupid mistakes."
Team owner Brad Jones says the team had elected to pit Slade earlier but a miscommunication delayed the pit stop.
"We were so busy trying to stop the window fogging up in the car we hadn't had time to top up the dry ice, and it is so hot in those cars that we cooked him," Jones told Speedcafe.com.
"In hindsight we should have got him out of the car earlier. We decided to take him out and he and his engineer had talked over each other and he missed the pit entry so they started racing again.
"There were two Safety Cars where we tried to get him out and just through difficulty in communication we didn't do it.
"It is not a good way to finish the race."
Sunday's dehydration scare was the culmination of a difficult weekend for the #14 Freightliner Racing Commodore.
The car headed into Bathurst with doubts surrounding the fitness of co-driver Ash Walsh, who suffered four fractured ribs and a contusion on his right lung in a testing crash at Phillip Island.
Slade also suffered a heavy crash at The Dipper in Practice 1 that ruled the car out of action for the remainder of Thursday, before Heimgartner was called up to replace the injured Walsh the following day.
"I guess if you look at the day (it was a good result)," added Slade.
"It's not what we came up here to achieve.
"For me, the rest of the year and the last couple of races onwards, I haven't really been too fussed about the championship, you just want to go out and get good solid results, so it's been a bit of a frustrating run."
Brad Jones Racing suffered heartache when Nick Percat crashed the #8 Commodore on the final lap, while Tim Blanchard and Todd Hazelwood brought the #21 Holden home in 12th position.