Reynolds/Youlden claim dramatic Bathurst victory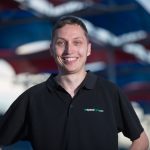 David Reynolds and Luke Youlden have overcome treacherous wet conditions and late Safety Car drama to take victory in the Supercheap Auto Bathurst 1000.
Reynolds held his nerve as a Safety Car, caused by Nissan's Simona de Silvestro when she found the start/finish straight wall on lap 153, provided a grandstand finish as light rain fell on a damp but drying track at Mount Panorama.
The Erebus Motorsport driver had built up a four second margin before the stoppage, having passed Brad Jones Racing's Nick Percat for the lead, when the race resumed after a previous Safety Car period with 17 laps remaining.
Reynolds pulled away from the Mobil 1 HSV Racing Holden of Scott Pye and Warren Luff when the race resumed with seven laps to go to take the chequered flag by 3.8s.
The victory was a maiden Bathurst triumph for Reynolds and Youlden, who had been podium contenders throughout, having led in the opening two hours in desperately wet conditions.
Reynolds emerged in victory contention when the slick shod Shane Van Gisbergen (Red Bull Holden) and Garth Tander (Garry Rogers Motorsport) ran wide at Murray's Corner on the penultimate restart, which left him in second position.
"I got nothing left to give, I am absolutely spent. This bloke (Youlden) drove unbelievably all day, my crew was faultless, man it was just a perfect day, it was so good," said Reynolds.
Likewise, Pye and Luff starred throughout, aided by a sensational opening stint by Luff who climbed from 20th to fourth early on.
The podium was completed by Shell V-Power Racing's Fabian Coulthard/Tony D'Alberto after Brad Jones Racing's Nick Percat threw away a podium by running wide at The Chase in the final laps.
Coulthard now leads the championship by 91 points.
As a result of the late drama both Erebus Motorsport cars finished inside the top four as Dale Wood brought the #99 Commodore he shared with Chris Pither home in fourth.
Prodrive's Mark Winterbottom was among those to benefit from succession of late Safety Cars to occupy fifth, but a mistake saw him find the wall on the penultimate lap at Forrest's Elbow.
Van Gisbergen inherited fifth after an eventful final laps that saw him recover to third from his earlier mistake while in the lead on the restart, before sailing off again at The Chase.
The feat was made even more impressive considering the #97  powered back from going a lap down earlier in the race.
Nissan Motorsport's Michael Caruso and Dean Fiore came home in sixth ahead of team-mates Todd Kelly and Jack Le Brocq.
A impressive run throughout saw Jason Bright and Garry Jacobson were eighth, while substitute driver Andre Heimgartner brought the #14 Freightliner Racing Holden in ninth.
Heimgartner took over from Tim Slade, who was forced to duck out of the race after suffering from dehydration.
The top 10 was completed by Prodrive's Chaz Mostert and Steve Owen. The Supercheap Auto car had to pit from second late on during the penultimate Safety Car having led deep into the race.
He was then caught up in a tangle with Garth Tander and Cameron Waters (#6 Prodrive), who appeared among the contenders for the victory at Turn 1 on lap 145.
It proved to be an eventful day in the title race as championship leader Scott McLaughlin retired on lap 75 when his #17 Shell V-Power Ford Falcon suffered an engine failure with co-driver Alex Premat at the wheel.
McLaughlin had held an 84 point lead over Jamie Whincup, who also encountered mechanical trouble.
The car had been on the fringes of the Top 10 as Paul Dumbrell battled poor visibility in the car before it dropped a cylinder.
Whincup returned to the garage on lap 121 and rejoined the race late on to claim points as a classified finisher in 20th despite being 37 laps down.
The Preston Hire Racing entry of Lee Holdsworth and Karl Reindler retired with a engine sensor issue.
Moffat joined the list of retirements having run as a high as third along with Winterbottom and Percat.
Race results: Virgin Australia Supercars Championship Supercheap Auto Bathurst 1000
| | | | | | |
| --- | --- | --- | --- | --- | --- |
| 1 | Erebus Penrite Racing | D.Reynolds/L.Youlden | Holden Commodore VF | 161 | 7:11:45.5456 |
| 2 | Mobil 1 HSV Racing | S.Pye/W.Luff | Holden Commodore VF | 161 | 7:11:49.4451 |
| 3 | Shell V-Power Racing Team | F.Coulthard/T.D'Alberto | Ford Falcon FG/X | 161 | 7:11:50.1369 |
| 4 | Erebus GB Galvanizing Racing | D.Wood/C.Pither | Holden Commodore VF | 161 | 7:11:51.8906 |
| 5 | Red Bull Holden Racing Aust | S.Van Gisbergen/M.Campbell | Holden Commodore VF | 161 | 7:11:56.1716 |
| 6 | Nissan Motorsport | M.Caruso/D.Fiore | Nissan Altima | 161 | 7:11:59.2330 |
| 7 | carsales Racing | T.Kelly/J.Le Brocq | Nissan Altima | 161 | 7:12:09.8460 |
| 8 | MEGA Racing | J.Bright/G.Jacobson | Ford Falcon FG/X | 161 | 7:12:13.7103 |
| 9 | Freightliner Racing | T.Slade/A.Heimgartner | Holden Commodore VF | 161 | 7:12:15.1732 |
| 10 | Supercheap Auto Racing | C.Mostert/S.Owen | Ford Falcon FG/X | 161 | 7:12:44.8516 |
| 11 | TeamVortex | C.Lowndes/S.Richards | Holden Commodore VF | 160 | 7:12:14.4462 |
| 12 | Team CoolDrive | T.Blanchard/T.Hazelwood | Holden Commodore VF | 160 | 7:12:28.5313 |
| 13 | Sengled Racing | R.Kelly/D.Wall | Nissan Altima | 159 | 7:12:14.9931 |
| 14 | TEKNO Woodstock Racing | W.Davison/J.Webb | Holden Commodore VF | 159 | 7:12:15.7572 |
| 15 | Repair Management Aust Racing | A.Rullo/A.Davison | Holden Commodore VF | 159 | 7:12:29.6327 |
| 16 | Monster Energy Racing | C.Waters/R.Stanaway | Ford Falcon FG/X | 159 | 7:13:01.6252 |
| 17 | Plus Fitness Racing | A.Russell/T.Douglas | Holden Commodore VF | 154 | 7:12:53.0439 |
| 18 | Wilson Security Racing GRM | G.Tander/J.Golding | Holden Commodore VF | 152 | 7:13:20.1765 |
| 19 | Mobil 1 HSV Racing | J.Courtney/J.Perkins | Holden Commodore VF | 147 | 7:12:30.3798 |
| 20 | Red Bull Holden Racing Aust | J.Whincup/P.Dumbrell | Holden Commodore VF | 124 | 7:13:27.8542 |
| DNF | Brad Jones Racing | N.Percat/M.Jones | Holden Commodore VF | 160 | 7:10:54.4454 |
| DNF | The Bottle-O Racing Team | M.Winterbottom/D.Canto | Ford Falcon FG/X | 159 | 7:07:38.7875 |
| DNF | Team Harvey Norman | S.De Silvestro/D.Russell | Nissan Altima | 152 | 6:47:49.2814 |
| DNF | Wilson Security Racing GRM | J.Moffat/R.Muscat | Holden Commodore VF | 141 | 6:18:31.3134 |
| DNF | Preston Hire Racing | L.Holdsworth/K.Reindler | Holden Commodore VF | 76 | 3:25:41.3782 |
| DNF | Shell V-Power Racing Team | S.McLaughlin/A.Premat | Ford Falcon FG/X | 74 | 3:19:46.6817 |
STANDINGS
| | | |
| --- | --- | --- |
| Pos | Driver | Points |
| 1 | Fabian Coulthard | 2431 |
| 2 | Jamie Whincup | 2340 |
| 3 | Scott McLaughlin | 2334 |
| 4 | Chaz Mostert | 2208 |
| 5 | Shane Van Gisbergen | 2142 |
| 6 | David Reynolds | 1803 |
| 7 | Craig Lowndes | 1734 |
| 8 | Garth Tander | 1710 |
| 9 | Cameron Waters | 1678 |
| 10 | Mark Winterbottom | 1671 |
| 11 | Scott Pye | 1366 |
| 12 | Michael Caruso | 1305 |
| 13 | Rick Kelly | 1284 |
| 14 | Tim Slade | 1281 |
| 15 | Will Davison | 1278 |
| 16 | Lee Holdsworth | 1269 |
| 17 | Todd Kelly | 1243 |
| 18 | James Moffat | 1227 |
| 19 | James Courtney | 1155 |
| 20 | Jason Bright | 1143 |
| 21 | Nick Percat | 1095 |
| 22 | Tim Blanchard | 966 |
| 23 | Dale Wood | 945 |
| 24 | Simona De Silvestro | 834 |
| 25 | Alex Rullo | 558 |
| 26 | James Golding | 504 |
| 27 | Tony D'Alberto | 480 |
| 28 | Jack Le Brocq | 441 |
| 29 | Richie Stanaway | 414 |
| 30 | Steve Owen | 414 |
| 31 | Luke Youlden | 408 |
| 32 | Chris Pither | 372 |
| 33 | Warren Luff | 360 |
| 34 | Matthew Campbell | 342 |
| 35 | Taz Douglas | 306 |
| 36 | Paul Dumbrell | 294 |
| 37 | Dean Fiore | 294 |
| 38 | Steven Richards | 288 |
| 39 | Alexandre Premat | 276 |
| 40 | Garry Jacobson | 276 |
| 41 | Jonathon Webb | 264 |
| 42 | Alex Davison | 261 |
| 43 | David Wall | 258 |
| 44 | Jack Perkins | 252 |
| 45 | Todd Hazelwood | 228 |
| 46 | Macauley Jones | 225 |
| 47 | Richard Muscat | 192 |
| 48 | Karl Reindler | 180 |
| 49 | Aaren Russell | 177 |
| 50 | Dean Canto | 168 |
| 51 | Andre Heimgartner | 168 |
| 52 | Shae Davies | 153 |
| 53 | David Russell | 102 |
| 54 | Cameron McConville | 81 |
| 55 | Matthew Brabham | 57 |
| 56 | Ash Walsh | 0 |