Triple Eight, Penske respond to Andretti arrival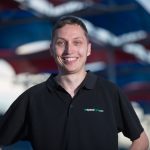 Triple Eight and DJR Team Penske have welcomed the challenge from Andretti Autosports who will join forces with Walkinshaw Racing in Supercars next season.
Walkinshaw Racing will be rebranded Walkinshaw Andretti United from January 1 2018 following the completion of a partnership with IndyCar giant Andretti Autosport and British sportscar team United Autosports.
Andretti Autosport is the latest global motorsport entity to join the series following in the footsteps of Penske, who bought a controlling stake in Dick Johnson Racing in 2014.
The news has been positively received by leading teams with Triple Eight boss Roland Dane believing the move helps put Supercars on the world motorsport map.
"I think it's fantastic for the sport for the Andretti name to be here," Dane told Speedcafe.com.
"I think it's like when Penske came in, and years ago when Prodrive came here, we came as Triple Eight.
"You've got an international contingent coming in, and it helps validate the series, so I think it's really good news for all of us."
While Andretti Autosports represents another global powerhouse joining Supercars, Dane remains confident his team and the success of others in the paddock have proved alliances with international giants are not essential in the category.
It has been suggested by Walkinshaw Andretti United co-owner Ryan Walkinshaw that forging technical partnerships with powerhouse outfits will be the future for leading Supercars teams.
"Honestly, I think there's no better illustration of how far you can go on local resources frankly than Erebus and GRM," Dane added.
"I think having the financial powers of some of these people is definitely useful, but I think we're very able technically at a local level – how much it technically adds, I'm not sure."
Meanwhile, DJR Team Penske is looking forward to the prospect of renewing the Penske/Andretti IndyCar rivalry in Supercars.
"They are competitors, Roger Penske is the ultimate competitor and we can't wait," DJR Team Penske managing director Ryan Story told Speedcafe.com.
"I think it is fantastic news, it is great for the series and we absolutely congratulate Walkinshaw and the HSV team for pulling that off and getting it together.
"I think the Andretti team, and not to mention the United Autosports but particularly Andretti, they are competitive in every venture they undertake and are very professional, great racers, obviously a tremendous racing pedigree too.
"To have those guys competing in the championship and to pit Penske against Andretti is kind of something that just feels right."