Nissan: No decisions yet on Supercars future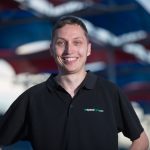 Recently appointed Nissan Australia boss Stephen Lester says a decision regarding its Supercars program beyond 2018 is yet to be made as the evaluation process continues.
The Japanese marque is committed to Supercars for another season having penned a two-year extension last year to continue with the Altima, although the brand is continuing to evaluate all aspects of the Supercars program.
Nissan's decision to continue in Supercars will be dictated by the direction global management takes concerning its motorsport programs, with Lester to play a key part of the process.
Speaking to media at this weekend's Supercheap Bathurst 1000, he confirmed that entire make up of its Supercars program, including body shape, engine configuration and team partners up for discussion.
THE FINAL RACE OF THE 2023 REPCO SUPERCARS CHAMPIONSHIP ON ONE OF THE WORLD'S BEST STREET CIRCUITS. GO ALL IN AT THE VAILO ADELAIDE 500, CLICK HERE TO BUY TICKETS
A timeline on a decision is unknown at this stage.
"No decision's been made yet either way, and I think we will do our due diligence and go through that process in a pragmatic way and not rush into that," said Lester, who took over from Richard Emery last month.
"If that means making a decision that is perceived at the last minute, then I'm confident that whatever that decision will be, will be based on good, pragmatic, solid facts, foundation, analysis versus any short term.
"I would hate to speculate on timing.
"The fact is I'm new here, five weeks sitting around, we need to do a complete evaluation of the program and then talk to global about also what the tie in and ladder up is to the global operation.
"And then make a decision based on that, what's going to be best for our market here for Nissan Australia.
"I would say that everything is on the table at the moment. We're not being closed minded to what the possibilities would entail."
Should the marque continue in Supercars, a move to a different model and a V6 twin turbo engine could be on the cards as the sport welcomes the Gen2 regulations.
Lester admits it is too early to be discussing the model possibilities outside of the Altima, which is no longer sold in Australia.
"I think it's too early for us to speculation in this stage of these discussion on what exactly we could go to," he added.
"The beauty of being such a global automotive brand, and such a successful one around the world, and this is a really important fact, is that there are a lot of opportunities open to us because Nissan is such a successful company around the world.
"So we'll make those decisions as time comes to bare, and as we get more clarity on what our position and options are, both from a global perspective but also within the confines and rules of V8 Supercars."
Lester says he is happy with Nissan's relationship with Kelly Racing, who runs the factory team, but admitted he would like to see results improve.
However, he confirmed that its partnership with Kelly Racing will be part of the ongoing evaluation process.
Nissan has scored two race wins since it joined the Supercars Championship in 2013.
"Would we like to be on the podium at the top of the podium more often? Of course, so would everybody," Lester added.
"As far as a group to work with, the Kellys have been absolute professionals and we're happy with that relationship and engagement and we'll look to build on that in the future and I think with a strong partnership the results will come."