Walsh to conduct practice laps, Heimgartner on standby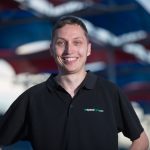 Ash Walsh will conduct practice laps in the #8 Brad Jones Racing entry in the Supercars co-driver session while the team repairs its Freightliner Racing Commodore.
Walsh has been given medical clearance to take part then the 60 minute session despite sustaining four fractured ribs and a contusion on his right lung following a testing crash at Phillip Island last Thursday.
The 29-year-old's hopes of receiving an outing today appeared to be dashed after Tim Slade crashed the #14 Commodore, he is due to share for The Great Race, in opening practice.
However, Walsh has been cross entered in the #8 entry of Nick Percat and Macauley Jones, which will allow him to complete laps, while the team repairs the Freightliner Racing Holden.
THE FINAL RACE OF THE 2023 REPCO SUPERCARS CHAMPIONSHIP ON ONE OF THE WORLD'S BEST STREET CIRCUITS. GO ALL IN AT THE VAILO ADELAIDE 500, CLICK HERE TO BUY TICKETS
The #14 has been ruled out of the rest of the day's action.
Walsh is then set to assess his condition after the session before committing to competing in this year's race.
The team has confirmed to Speedcafe.com that former Supercars full-timer and Porsche Carrera Cup driver Andre Heimgartner is on standby to fill in for Walsh if required.
"Ash is going to do some laps in Car 8. I just want to see how, of all this, it's probably most inconvenient for him because I would have liked him to do a full co-driver session," Jones told Speedcafe.com.
"That's unfortunate but we'll get him to do a few laps in this and see how he feels. He feels pretty confident he'll be okay."
Jones says his team remains hopeful that a repair can be completed on the #14 car in time for Friday's sessions.
"I don't think it will be out today. The more we pull off it the more damage we find and it's obviously hit the wall pretty hard," Jones added.
"We've been so busy repairing stuff at home that we didn't bring our fabricators up yesterday, Tuesday, today we've got two of them.
"They jumped in the ute with a few spare parts and they'll get in tonight about 6 o'clock and just work on it 'til it's finished. I'm hoping that it'll be going tomorrow.
"It's had a pretty hard lick on the left rear top rail, and on the bird cage it's damage a bit where the rocker's gone in, and on the front similar sort of damage.
"At this point we've got the cross member out of the front of it just to see how much it's tweaked the front left rail. Ideally, we wouldn't cut that out regardless, just straighten it up.
"One of the big things will be getting the transaxle in the right spot and but once we get those sorted out I think we'll be ready to start going back together. I'd like to think we're going to run tomorrow but time will tell."