Triple Eight set for lengthy SVG Commodore repair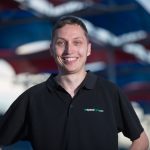 Triple Eight expects the #97 Commodore will return for Friday's opening Supercheap Auto Bathurst 1000 practice session after undergoing a repair that is expected to go long into the night.
The Queensland squad has been pressed into action after van Gisbergen suffered a heavy impact with the wall at the Dipper halfway through Practice 3.
Van Gisbergen ran wide before striking the concrete at speed resulting in extensive damage to the left side of the car.
Triple Eight team manager Mark Dutton says the car appears to avoided chassis damage but believes the squad will be required to  weld up parts of the car.
THE FINAL RACE OF THE 2023 REPCO SUPERCARS CHAMPIONSHIP ON ONE OF THE WORLD'S BEST STREET CIRCUITS. GO ALL IN AT THE VAILO ADELAIDE 500, CLICK HERE TO BUY TICKETS
The reigning Supercars champion and co-driver Matt Campbell had finished the opening two practice session in 23rd spot having struggled to extract the best from the car.
"There is a fair bit of work to be done, it went in quite hard," Dutton told Speedcafe.com.
"There doesn't appear to be (chassis damage), it looks, there will be some welding to be done, something will be breached or cracked or something like that.
"So, we will go over everything.
"The main thing is roll cage is not damaged, the whole thing doesn't appear to be out of whack.
"You have to check all the mounts, you have to go through every single bit of the car.
"It will be long into the night, it won't an all nighter or anything like that, touch wood, I certainly hope not, but we will be here for quite a while yet.
"We have got the parts, we have got the people, we will be able to do it."
Van Gisbergen has held his hand up for the error in practice, but has confirmed that the car improved significantly throughout the day.
"The first session was a bit average but we definitely did some good work," said van Gisbergen.
"In the second one, Matty was able to get comfortable and get better and better and the car was much improved when I got in there.
"We set some reasonable times and I felt like we were making some good headway and then unfortunately I made a mistake which has made the guys do some unnecessary work to get it going tomorrow but at least now, our car is better."
Meanwhile, Dutton says that team cannot take anything for granted when fine tuning its car set-up on the 2016 Dunlop tyres that have been re-introduced this weekend.
"We still have work to do, I don't want to talk ahead of time," Dutton added.
"We are still doing all our homework, we are not taking anything for granted, just because something was fine last year, whether it is set-up, dampers, springs, pressures whatever, we are not taking anything for granted.
"Everything has to be re-checked, so there is a lot of work to be done, but we are working through it."
The Supercars field will return for Practice 4 which is exclusive to co-drivers on Friday at 0845 local time.