Andretti, United Autosports complete Walkinshaw buy-in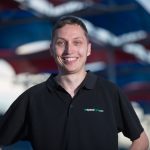 IndyCar squad Andretti Autosport and British sportscar team United Autosports have bought a stake in Supercars outfit Mobil 1 HSV Racing.
The Walkinshaw team has been the subject of a buy-in for weeks with Speedcafe.com revealing that McLaren F1 and United Autosports boss Zak Brown alongside a host of high profile teams were interested in the former factory Holden team.
A deal between Andretti Autosport and United Autosports has now been completed, which will see the squad renamed Walkinshaw Andretti United from January 1 next year.
It is understood Walkinshaw will hold an equal partnership with Andretti, while Brown and United Autosports will become a minority shareholder.
The partnership is pending approval from the Supercars board.
Mobil 1 HSV Racing boss Ryan Walkinshaw hopes the arrangement will push his team forward having endured a slump in recent seasons.
The Clayton outfit currently runs two Commodores for James Courtney and Scott Pye.
"To be able to partner with both Andretti Autosport and United Autosports is an honour," said Walkinshaw Racing Chairman Ryan Walkinshaw.
"We've looked at what both companies have to offer the team moving forward, which is why everyone should be so excited.
"This combination of international expertise is a pivotal step in accelerating our development, getting us where we need to be.
"We've been looking for partners who can add value to the team both on and off the track, so to be able to find that so resoundingly is the most pleasing element.
"United Autosports and Andretti Autosport's experience, knowledge and record both on and off the race track, gives us, our current partners and any future partners access to global networks and talent pools."
United Autosports boss Brown is looking forward to collaborating with Walkinshaw and Andretti.
Brown has recently purchased a 2011 Bathurst winning Holden Commodore for his private car collection and is due to drive the car at Donington Park next week.
"I'm delighted United Autosports have joined forces with Walkinshaw Racing and Andretti Autosport," said Brown.
"It is bringing together three iconic names in motorsport across three continents – Europe, Australia and America, where we can share our experience and resources to make each team stronger."
Andretti Autosport boss and former racer Michael Andretti, who is in Bathurst for the announcement, believes the partnership will turn the operation into a leading force in Supercars.
"I'm very excited to announce our new partnership with Walkinshaw Racing and United Autosports," said Andretti.
"I have always set a goal for Andretti Autosport to diversify and succeed across multiple platforms, and this opportunity is a natural next step for the team as we continue to expand globally.
"Together with Walkinshaw Racing and United Autosports, we now have three iconic organisations working together. We are determined to succeed, and I have full confidence that this new venture, Walkinshaw Andretti United, will become a leading Supercars team."
Supercars boss James Warburton has praised the announcement which he sees as a boost for the category.
"This is a powerful endorsement of the Supercars Championship," said Warburton.
"To have two of the biggest names in world motorsport take an active part in our sport is tremendous. It shows just how widely recognised Supercars is on the global stage.
"Congratulations to Ryan Walkinshaw and his Holden Special Vehicles team this will well and truly get them on the path to returning as a powerhouse of our sport."
Mobil 1 HSV Racing is currently languishing in sixth in the Supercars teams' championship.
The team has been led by Mathew Nilsson following the departure of team principal Adrian Burgess in May.