Teen sensation set to light up Rally Australia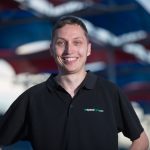 Finnish teen sensation Kalle Rovanperä is set to show his burgeoning talent at Kennards Hire Rally Australia in November.
The 16-year-old son of former World Rally Championship driver Harri Rovanperä is fast developing into a future star, having won last year's Latvian Rally Championship and rounds of the Finnish and Italian series this season.
Rovanperä's success has arrived while the teen is not yet old enough to qualify for a road licence, which has restricted the championships he can contest.
However, on October 1 he will turn 17 which will be followed by the opportunity to contest the final two WRC rounds in Great Britain and Australia (November 16-19) for the renowned M-Sport operation in WRC2 machinery.
The teen will be among the youngest driver in the Rally Australia field when he pilots an R5 specification Ford Fiesta.
"Kalle Rovanperä's entry is fantastic news for spectators and yet another reason not to miss Rally Australia this year," said Rally Australia's Clerk of Course Wayne Kenny.
"He's a huge talent and a potential champion and is bound to add some fireworks to WRC2 – but there will be action aplenty elsewhere in the field too.
"His senior team-mate Sébastien Ogier is potentially going to be fighting for the goal Kalle one day hopes to reach – the FIA World Rally Championship – and Molly Taylor, Nathan Quinn and Harry Bates are definitely in a showdown for the Australian Rally Championship."
The youngster will be looking to impress having been selected by Hyundai as one of eight finalists in its young driver development program.
The winner will be given a Hyundai-supported entry in next year's WRC2 series.
Last week the FIA confirmed Rally Australia will retain its final round berth on the 2018 WRC calendar.