NZ to launch new 'Twenty20' style race format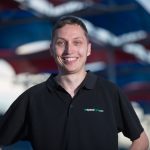 Hampton Downs will launch a new 'Twenty20 style' quick-fire motor racing format at the Laser Plumbing & Electrical Hampton Downs 500 next month.
The concept, created by circuit owner and Australian GT boss Tony Quinn, will be known as Fast & Furious Racing and is designed to deliver short, action packed races, similar to cricket's Twenty20 discipline.
Competitors will take part in six lap races which will include a compulsory Safety Car to bunch up the grid midway through the race.
The idea mirrors Stadium Super Trucks which has used a mandatory caution period in its races.
Four Fast and Furious races will be held over the weekend with the fastest qualifiers starting at the front of the field in Race 1.
A reverse grid will be used to determine the starting order in Races 2 and 4 while the driver's combined times will decide who starts on pole for Race 3.
Competitors will score points based on where they finish in each of the four races.
The format will be open to all categories of race car provided they have a full roll cage and Motor Sport New Zealand logbook.
All entrants will be in with a chance to win a brand new car, which will be part of an overall prize pool of $50,000.
Fast & Furious Racing will appear at the Laser Plumbing & Electrical Hampton Downs 500 from October 28-29.
The Australian Endurance Championship race at the circuit will remain in its current 500km format.
Fast & Furious Racing is expected to undergo a trial run at the Quinn owned Highlands Motorsport Park in early October.
"Fast & Furious Racing is something we have developed in New Zealand and we think it is going to be more entertaining for the competitors and fans," Quinn told Speedcafe.com.
"It is also aimed to try and condense things into one day because there is no doubt people don't want to race for three days.
"If it doesn't work everyone will tell me it was a silly idea and it was never going to work, if it does work, everyone will copy it."
Quinn says he came up with the idea while at a motor racing event in New Zealand this year.
"I won't name the event or the track because I might get into trouble, but I went there purely as a spectator," added Quinn.
"I wanted to see how the fans experience a race meeting and it was absolutely deplorable.
"Getting the cars on the grid and then doing a warm-up lap and starting the race took forever.
"When the racing finally started, after the excitement of the first couple of laps, it quickly became a procession where the cars went around and around the track until the finish line.
"A Safety Car came out at one stage and everyone got excited for a lap or two so the only exciting bits of the race were the start and the Safety Car.
"That's where the idea for Fast & Furious Racing came from. It's like Rugby Sevens or Twenty20 Cricket for motor racing.
"I came up with the name Fast & Furious Racing. I didn't for a minute think it would be approved because of copyright, but we got the green light and here we are."