Slade/Walsh excluded from Sandown 500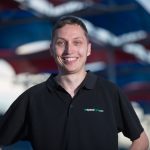 Stewards have excluded Tim Slade and Ash Walsh from the Wilson Security Sandown 500.
The #75 Brad Jones Racing Holden has been stripped of its ninth place finish in Sunday's Pirtek Enduro Cup opener after officials deemed the entry breached driver resting time regulations.
Regulations dictate drivers must log a minimum of 54 laps and minimum resting time of the same period which the entry has broken according to the stewards. Drivers must not complete more than two thirds of the race distance.
Co-driver Walsh started the race and completed two stints (85 laps) as the Albury team operated an alternate strategy which proved fruitful having been turned around on the opening lap.
The pairing stopped during the early Safety Car and was therefore able to make it home on just two more stops.
Tim Slade took over the car from Walsh at the end of lap 86 ensuring he completed the 39 lap run to the chequered flag in what was a time certain finish after an hour long suspension.
As a result, Walsh failed to meet the required 54 lap (one third scheduled distance) minimum resting period.
The regulations in question read as the following;
"8.4.6.1 the total driving distance for each Driver must not exceed two-thirds (2/3) of the scheduled race distance; and
"8.4.6.2 the total effective resting time for each Driver must be equal to at least one-third (1/3) of the scheduled race distance.
"8.4.6.3 the scheduled race distance will always be considered as the number laps listed in the Supplementary Regulations, irrespective of a time certain finish being referenced and/or applied unless, at the sole discretion of the Stewards, a reduced distance is necessary."
A stewards report rejected an interpretation from Brad Jones Racing that both its drivers had abided by the rules stipulating the maximum driving time or continuous time behind the wheel.
The exclusion marked a disastrous weekend for the team after its #4 entry failed to make the start following a horror crash for Todd Hazelwood on Saturday, while Nick Percat and Macauley Jones were the last of the classified finishers.
See below for updated Sandown 500 race results and championship points
Results: Virgin Australia Supercars Championship Wilson Security Sandown 500
| | | | | | |
| --- | --- | --- | --- | --- | --- |
| 1 | Monster Energy Racing | C.Waters/R.Stanaway | Ford Falcon FG/X | 125 | 3:31:35.7850 |
| 2 | Shell V-Power Racing Team | S.McLaughlin/A.Premat | Ford Falcon FG/X | 125 | 3:31:36.4596 |
| 3 | Supercheap Auto Racing | C.Mostert/S.Owen | Ford Falcon FG/X | 125 | 3:31:58.3598 |
| 4 | Wilson Security Racing GRM | G.Tander/J.Golding | Holden Commodore VF | 125 | 3:32:02.9525 |
| 5 | Shell V-Power Racing Team | F.Coulthard/T.D'Alberto | Ford Falcon FG/X | 125 | 3:32:08.5048 |
| 6 | Red Bull Holden Racing Aust | J.Whincup/P.Dumbrell | Holden Commodore VF | 125 | 3:32:12.1805 |
| 7 | Wilson Security Racing GRM | J.Moffat/R.Muscat | Holden Commodore VF | 125 | 3:32:13.1237 |
| 8 | Preston Hire Racing | L.Holdsworth/K.Reindler | Holden Commodore VF | 125 | 3:32:14.5606 |
| 9 | The Bottle-O Racing Team | M.Winterbottom/D.Canto | Ford Falcon FG/X | 125 | 3:32:19.7249 |
| 10 | Mobil 1 HSV Racing | J.Courtney/J.Perkins | Holden Commodore VF | 125 | 3:32:23.0153 |
| 11 | TeamVortex | C.Lowndes/S.Richards | Holden Commodore VF | 125 | 3:32:33.4225 |
| 12 | TEKNO Woodstock Racing | W.Davison/J.Webb | Holden Commodore VF | 125 | 3:32:45.3894 |
| 13 | Erebus GB Galvanizing Racing | D.Wood/C.Pither | Holden Commodore VF | 124 | 3:31:49.1885 |
| 14 | Sengled Racing | R.Kelly/D.Wall | Nissan Altima | 124 | 3:31:57.3447 |
| 15 | Red Bull Holden Racing Aust | S.Van Gisbergen/M.Campbell | Holden Commodore VF | 124 | 3:32:05.0566 |
| 16 | carsales Racing | T.Kelly/J.Le Brocq | Nissan Altima | 124 | 3:32:33.7421 |
| 17 | Erebus Penrite Racing | D.Reynolds/L.Youlden | Holden Commodore VF | 124 | 3:32:34.8307 |
| 18 | Team Harvey Norman | S.De Silvestro/D.Russell | Nissan Altima | 124 | 3:32:41.4815 |
| 19 | MEGA Racing | J.Bright/G.Jacobson | Ford Falcon FG/X | 124 | 3:32:45.4318 |
| 20 | Nissan Motorsport | M.Caruso/D.Fiore | Nissan Altima | 123 | 3:31:57.6221 |
| 21 | Mobil 1 HSV Racing | S.Pye/W.Luff | Holden Commodore VF | 113 | 3:31:58.6646 |
| 22 | Mongrel Boots Racing | N.Percat/M.Jones | Holden Commodore VF | 109 | 3:32:23.1221 |
| DNF | Repair Management Aust Racing | A.Rullo/A.Davison | Holden Commodore VF | 43 | 2:29:23.2935 |
| DNF | Plus Fitness Racing | Taz Douglas | Holden Commodore VF | | |
| EXC | Freightliner Racing | T.Slade/A.Walsh | Holden Commodore VF | | |
Championship points: After Race 19
| | | |
| --- | --- | --- |
| 1 | Scott McLaughlin | 2334 |
| 2 | Jamie Whincup | 2250 |
| 3 | Fabian Coulthard | 2173 |
| 4 | Chaz Mostert | 2052 |
| 5 | Shane Van Gisbergen | 1920 |
| 6 | Mark Winterbottom | 1671 |
| 7 | Garth Tander | 1608 |
| 8 | Craig Lowndes | 1590 |
| 9 | Cameron Waters | 1564 |
| 10 | David Reynolds | 1503 |
| 11 | Lee Holdsworth | 1269 |
| 12 | James Moffat | 1227 |
| 13 | Will Davison | 1152 |
| 14 | Rick Kelly | 1152 |
| 15 | Tim Slade | 1113 |
| 16 | Michael Caruso | 1101 |
| 17 | Nick Percat | 1095 |
| 18 | Scott Pye | 1090 |
| 19 | James Courtney | 1059 |
| 20 | Todd Kelly | 1051 |
| 21 | Jason Bright | 963 |
| 22 | Simona De Silvestro | 834 |
| 23 | Tim Blanchard | 828 |
| 24 | Dale Wood | 705 |
| 25 | Alex Rullo | 438 |
| 26 | James Golding | 402 |
| 27 | Richie Stanaway | 300 |
| 28 | Alexandre Premat | 276 |
| 29 | Steve Owen | 258 |
| 30 | Jack Le Brocq | 249 |
| 31 | Macauley Jones | 225 |
| 32 | Tony D'Alberto | 222 |
| 33 | Paul Dumbrell | 204 |
| 34 | Taz Douglas | 198 |
| 35 | Richard Muscat | 192 |
| 36 | Karl Reindler | 180 |
| 37 | Dean Canto | 168 |
| 38 | Jack Perkins | 156 |
| 39 | Shae Davies | 153 |
| 40 | Steven Richards | 144 |
| 41 | Alex Davison | 141 |
| 42 | Jonathon Webb | 138 |
| 43 | Chris Pither | 132 |
| 44 | David Wall | 126 |
| 45 | Matthew Campbell | 120 |
| 46 | Luke Youlden | 108 |
| 47 | David Russell | 102 |
| 48 | Garry Jacobson | 96 |
| 49 | Todd Hazelwood | 90 |
| 50 | Dean Fiore | 90 |
| 51 | Warren Luff | 84 |
| 52 | Cameron McConville | 81 |
| 53 | Aaren Russell | 69 |
| 54 | Matthew Brabham | 57 |
| 55 | Ashley Walsh | 0 |