Waters/Stanaway revel in 'unreal' victory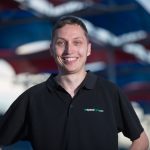 Cameron Waters and Richie Stanaway have declared today's Sandown 500 victory among their career highlights.
The Prodrive duo combined to produce a dominant performance to convert pole position into a maiden Supercars triumph at the Melbourne circuit.
A strong opening stint from Stanaway saw the Monster Energy Ford lead for long periods before handing over to primary driver Waters.
Waters then refused to buckle under pressure from Scott McLaughlin in the #17 Shell V-Power Racing Ford in the run to the chequered flag.
THE FINAL RACE OF THE 2023 REPCO SUPERCARS CHAMPIONSHIP ON ONE OF THE WORLD'S BEST STREET CIRCUITS. GO ALL IN AT THE VAILO ADELAIDE 500, CLICK HERE TO BUY TICKETS
The milestone marked Waters' first win and podium as a Supercars primary driver, having threatened to score a rostrum all year.
"It is probably one of the most pressured battles I have ever been in, and one of the career highlights," said Waters.
"That last stint was pretty full on and the lapped traffic worked against me and worked for me.
"We were trying to hook up the tyres a little bit, Scotty (McLaughlin) was catching me and then I think he probably gave up a little bit, so I just tried to manage the gap.
"I knew he was going to come at me pretty hard at me at the end. (He) had a crack (and I) managed to hold him off.
"You just keep focusing on driving the car," Waters added.
"If you keep hitting your marks and doing the best job you can inside the car, the result will look after itself.
"I managed to do that, made a couple of little mistakes but that was just due to trying stuff to be a little bit quicker.
"I managed to hold my own and winning is absolutely unreal. I can't believe we are here."
Co-driver Stanaway echoed the sentiments as the victory further showcased his growing potential to become a future Supercars full-timer.
The 25-year-old New Zealander admitted the prospect of winning the race was far from his mind heading into this weekend's Pirtek Enduro Cup opener.
Stanaway classes the win among his highlights that include victories in GP2, GP3 and the FIA World Endurance Championship.
"This is definitely a career highlight for me. It still hasn't quite sunk in that we got the win," said Stanaway.
"If we had said to each other on Wednesday that we would get pole and the win, we would have thought we were kidding ourselves.
"I think neither of us can really believe it at the moment.
"It is a huge credit to our team, they are pushing really hard to increase the performance of our cars and what we brought out this weekend has obviously been very competitive."
Stanaway remains a key element in the silly season with the Kiwi admitting he is 'pretty confident' of landing a full-time drive next year.
He believes the victory not only confirms he was right to focus on a career in Supercars, but will also help secure a ride next year.
"I am thrilled because this is the type of result I would have only expected after four or five years in the category," he added.
"So, to have a win like this in my second enduro campaign is quite surreal. I haven't been quiet about my ambitions for next year so obviously getting this win really helps a lot."
Meanwhile, Prodrive boss Tim Edwards hailed the achievements of his young driver pairing.
"Neither of them put a foot wrong, they just did what they had to do," Edwards told Speedcafe.com.
"I think it helps when you've got a fast car.
"They both drove with a real level of maturity, and that started in practice on Friday and obviously then we saw how well they drove in the two races, 20-lap races, yesterday.
"They were very confident after that, but still a long race around here.
"It doesn't matter how confident you are, there's other factors that can come into it, but they did a fantastic job the pair of them."