Waters/Stanaway claim Sandown 500 win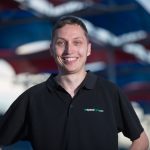 Cameron Waters and Richie Stanaway produced a faultless drive to take out an eventful Wilson Security Sandown 500.
After a opening lap crash provided an hour long suspension, the Prodrive Ford duo controlled a time certain race for large periods, only losing the lead during the pit stop cycle.
Polesitters Waters and Stanaway were challenged by Shell V-Power Racing's Scott McLaughlin and Alex Premat throughout, but the championship leading Falcon came up just short.
The triumph marked Waters' first win and podium as a primary Supercars driver and a maiden win for co-driver Stanaway.
The #97 Red Bull Holden of Shane van Gisbergen and Matt Campbell enjoyed a remarkable run from 21st to third with the duo on course for a podium until a puncture late on.
This elevated the #55 Prodrive entry of Chaz Mostert and Steve Owen to third, despite incurring a five-second penalty early in the race.
Triple Eight's Jamie Whincup and Paul Dumbrell appeared strong contenders for the victory, although a puncture in the second stint forced them to fight back from 23rd to sixth.
The race turned into a time certain affair following a heavy opening lap crash for Lucas Dumbrell Motorsport's Taz Douglas at Turn 6.
The co-driver of the #3 Aaren Russell entry suffered a right front puncture following contact with Ash Walsh, that turned the #75 Brad Jones Racing entry around at Turn 4.
As a result, Douglas was powerless to avoid the barriers at Turn 6 that required extensive repairs under the red flag.
At the stoppage, Richie Stanaway (#6 Prodrive Ford) led Alex Premat (#17 Shell Ford) with Paul Dumbrell (#88 Red Bull Holden) in third.
Prior to the red flag, the big movers were Shane van Gisbergen (Red Bull Holden) and Craig Lowndes (TeamVortex) who were the only primary drivers to start the race.
After starting from 21st, van Gisbergen surged to 13th on the opening lap while Lowndes assumed 17th position from 23rd.
Dean Canto in #5 Prodrive Ford was among the losers as he was nudged off the road at Turn 4 by Jack Perkins in the #22 Mobil 1 HSV Racing Commodore.
At the restart, Stanaway streaked into a lead as Premat came under pressure from Dumbrell for second.
Van Gisbergen continued his charge as he surged into the top 10, while team-mate Lowndes pitted early to hand over to co-driver Steven Richards to complete the permitted 54 lap minimum for a co-driver.
Dumbrell soon moved up to second with a move on Premat at Turn 1.
Meanwhile, Steve Owen (#55 Chaz Mostert Ford) was issued a five-second penalty for leaving Luke Youlden with no room when overtaking for fourth at Turn 9.
Van Gisbergen inherited the lead when the front two pitted, before diving into the pits to hand over to co-driver Matt Campbell, as Premat followed the Holden in to pit lane.
An early stop under the Safety Car saw the #75 of Ash Walsh and Tim Slade out of sequence with the field, Walsh holding the lead after the first round of stops from Dumbrell, Stanaway, Premat and Campbell.
However, the complexion of the race changed when Dumbrell suffered a right rear puncture while hassling leader Walsh.
The #88 co-driver dropped a wheel off the road at Turn 1, which may have contributed to the failure.
He dropped to 23rd almost a lap down after ducking into the pits for a replacement tyre.
At the front, Stanaway caught and passed Walsh for the lead, who then took a long stop on lap 40, remaining in the car to complete his required distance.
Premat moved into second with Campbell third and D'Alberto (#12 Shell V-Power Ford) fourth.
The critical lap 54 sparked a flurry of pit stops as teams handed over to their primary drivers.
Waters took over the lead from Stanaway in front of McLaughlin, while third-placed Campbell stayed in the #97 in third having yet reached his minimum distance.
Walsh, still out of sequence, held fourth in the #75 BJR entry ahead of Fabian Coulthard (#12 Shell Ford), Chaz Mostert (#55 Prodrive Ford) and the GRM duo of Garth Tander and James Moffat.
Whincup soon took over the #88 Triple Eight in 14th position following their earlier puncture.
Further back, Erebus Motorsport's challenge unravelled when David Reynolds suffered a right front puncture while sitting just outside of the top 10.
McLaughlin began to close in on Waters after the final stops.
Despite applying pressure throughout the closing stages, the positions remained unchanged until the chequered flag.
Drama struck the #97 when van Gisbergen suffered a right front puncture on lap 106, dropping him from third to 16th at the flag.
As a result, Mostert inherited the final place on the podium.
A solid run throughout saw Garth Tander and James Golding emerge as the top Holden in fourth after a late pass on Coulthard.
James Moffat brought the #34 GRM Holden he shared with Richard Muscat home in seventh ahead of the Lee Holdsworth/Karl Reindler Commodore.
Tim Slade finally replaced Walsh on lap 85, driving the final stint to claim ninth for #75 BJR entry, while Mark Winterbottom and Dean Canto (#5 Prodrive) completed the top 10.
Craig Lowndes and Steve Richards finished in 12th position.
Lucas Dumbrell Motorsport suffered double heartache after being issued with a 30 point penalty and a $5,000 fine after #62 co-driver Alex Davison exited the pits with a loose right rear wheel.
The two LDM cars were the only retirements from the race.
Second place for McLaughlin sees the Shell V-Power Racing driver extend his championship advantage to 84 points over Whincup.
Results: Virgin Australia Supercars Championship Wilson Security Sandown 500
1
Monster Energy Racing
C.Waters/R.Stanaway
Ford Falcon FG/X
125
3:31:35.785
2
Shell V-Power Racing Team
S.McLaughlin/A.Premat
Ford Falcon FG/X
125
3:31:36.460
3
Supercheap Auto Racing
C.Mostert/S.Owen
Ford Falcon FG/X
125
3:31:58.360
4
Wilson Security Racing GRM
G.Tander/J.Golding
Holden Commodore VF
125
3:32:02.953
5
Shell V-Power Racing Team
F.Coulthard/T.D'Alberto
Ford Falcon FG/X
125
3:32:03.505
6
Red Bull Holden Racing Aust
J.Whincup/P.Dumbrell
Holden Commodore VF
125
3:32:12.181
7
Wilson Security Racing GRM
J.Moffat/R.Muscat
Holden Commodore VF
125
3:32:13.124
8
Preston Hire Racing
L.Holdsworth/K.Reindler
Holden Commodore VF
125
3:32:14.561
9
Freightliner Racing
T.Slade/A.Walsh
Holden Commodore VF
125
3:32:18.304
10
The Bottle-O Racing Team
M.Winterbottom/D.Canto
Ford Falcon FG/X
125
3:32:19.725
11
Mobil 1 HSV Racing
J.Courtney/J.Perkins
Holden Commodore VF
125
3:32:23.015
12
TeamVortex
C.Lowndes/S.Richards
Holden Commodore VF
125
3:32:33.423
13
TEKNO Woodstock Racing
W.Davison/J.Webb
Holden Commodore VF
125
3:32:45.389
14
Erebus GB Galvanizing Racing
D.Wood/C.Pither
Holden Commodore VF
124
3:31:49.189
15
Sengled Racing
R.Kelly/D.Wall
Nissan Altima
124
3:31:57.345
16
Red Bull Holden Racing Aust
S.Van Gisbergen/M.Campbell
Holden Commodore VF
124
3:32:05.057
17
MEGA Racing
J.Bright/G.Jacobson
Ford Falcon FG/X
124
3:32:19.432
18
carsales Racing
T.Kelly/J.Le Brocq
Nissan Altima
124
3:32:33.742
19
Erebus Penrite Racing
D.Reynolds/L.Youlden
Holden Commodore VF
124
3:32:34.831
20
Team Harvey Norman
S.De Silvestro/D.Russell
Nissan Altima
124
3:32:41.482
21
Nissan Motorsport
M.Caruso/D.Fiore
Nissan Altima
123
3:31:57.622
22
Mobil 1 HSV Racing
S.Pye/W.Luff
Holden Commodore VF
113
3:31:58.665
23
Mongrel Boots Racing
N.Percat/M.Jones
Holden Commodore VF
109
3:32:23.122
DNF
Repair Management Aust Racing
A.Rullo/A.Davison
Holden Commodore VF
43
2:29:23.294
DNF
Plus Fitness Racing
Taz Douglas
Holden Commodore VF
Championship points: After Race 19
| | | |
| --- | --- | --- |
| 1 | Scott McLaughlin | 2334 |
| 2 | Jamie Whincup | 2250 |
| 3 | Fabian Coulthard | 2173 |
| 4 | Chaz Mostert | 2052 |
| 5 | Shane Van Gisbergen | 1914 |
| 6 | Mark Winterbottom | 1659 |
| 7 | Garth Tander | 1608 |
| 8 | Craig Lowndes | 1584 |
| 9 | Cameron Waters | 1564 |
| 10 | David Reynolds | 1491 |
| 11 | Tim Slade | 1281 |
| 12 | Lee Holdsworth | 1269 |
| 13 | James Moffat | 1227 |
| 14 | Will Davison | 1146 |
| 15 | Rick Kelly | 1146 |
| 16 | Michael Caruso | 1095 |
| 17 | Nick Percat | 1089 |
| 18 | Scott Pye | 1084 |
| 19 | James Courtney | 1047 |
| 20 | Todd Kelly | 1039 |
| 21 | Jason Bright | 975 |
| 22 | Tim Blanchard | 828 |
| 23 | Simona De Silvestro | 822 |
| 24 | Dale Wood | 699 |
| 25 | Alex Rullo | 438 |
| 26 | James Golding | 402 |
| 27 | Richie Stanaway | 300 |
| 28 | Alexandre Premat | 276 |
| 29 | Steve Owen | 258 |
| 30 | Jack Le Brocq | 237 |
| 31 | Tony D'Alberto | 222 |
| 32 | Macauley Jones | 219 |
| 33 | Paul Dumbrell | 204 |
| 34 | Taz Douglas | 198 |
| 35 | Richard Muscat | 192 |
| 36 | Karl Reindler | 180 |
| 37 | Ashley Walsh | 168 |
| 38 | Dean Canto | 156 |
| 39 | Shae Davies | 153 |
| 40 | Jack Perkins | 144 |
| 41 | Alex Davison | 141 |
| 42 | Steven Richards | 138 |
| 43 | Jonathon Webb | 132 |
| 44 | Chris Pither | 126 |
| 45 | David Wall | 120 |
| 46 | Matthew Campbell | 114 |
| 47 | Garry Jacobson | 108 |
| 48 | Luke Youlden | 96 |
| 49 | Todd Hazelwood | 90 |
| 50 | David Russell | 90 |
| 51 | Dean Fiore | 84 |
| 52 | Cameron McConville | 81 |
| 53 | Warren Luff | 78 |
| 54 | Aaren Russell | 69 |
| 55 | Matthew Brabham | 57 |