Dane: We threw away Sandown 500 victory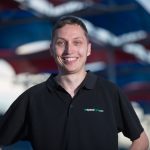 Triple Eight boss Roland Dane believes his squad threw away victory at the Wilson Security Sandown 500.
Jamie Whincup and Paul Dumbrell provided a strong challenge for the win in the early stages, only for a right rear puncture to derail the effort early in the second stint.
Whincup managed to power from the 20th to sixth at the chequered flag to salvage a result, although his 12 point deficit to championship leader Scott McLaughlin grew to 84.
Dane felt the pace shown by Whincup and Dumbrell was more than enough to take out the race.
"We should have won the race with relative ease with Jamie and PD's pace, even after we took defensive measures after the issue with the tyre," Dane told Speedcafe.com.
"We still pulled back 15 seconds on the leaders, it was ours to throw away, and we did."
Triple Eight's tyre woes continued when the sister #97 entry for Shane van Gisbergen and Matt Campbell blew a right front with 20 laps remaining, dashing hopes of a likely third place finish.
"I think it's (the punctures) are a combination of track circumstances, set-up and everything," Dane added.
"The tyre's marginal, that's why they've been testing a new tyre, but you have to be the right side of it. We were the wrong side of it today."
Team manager Mark Dutton admits mistakes were made with the set-up of the cars, which contributed to the tyre failures.
However, Dumbrell running over the kerbing at Turn 1 could have been a factor in the tyre's demise.
"You're always being aggressive, you push hard, but we didn't think we were close to the limit," said Dutton.
"If anything we thought we were on the conservative side, without being overly conservative.
"That's why it was totally out of the blue.
"There are times where you hold your breath the whole race because you know you're pushing the boundaries. This wasn't one of those times.
"I think we got a few things a little bit wrong, and they added up to being enough wrong to cause the punctures.
"We do have to analyse – we had a rear on one and a front on the other. And we did our homework, we did our due diligence.
"We had 20-lap lead-up races, so to do one in 15 laps on the #88 car, it definitely caught us off guard.
"We've got to put our hand up and say we were wrong. We didn't have monster camber on, but clearly we must have had too much."
Whincup felt the failure was down to the kerbing, while admitting the team was stretching the limits of the tyre.
"What caused it? Certainly our blowout was caused by Turn 1, the exit of Turn 1," added Whincup.
"But we were really on the limit as well, so we'll put our hand up and say we should have done a better job as a team.
"Unfortunately we dumped another 80 points.
"I don't know what it is about these Seasons of Endurance, you've got to have a clean run and we did a shocking job last year, and we're on track to do the same this year.
"We'll put this weekend behind us and make sure we get better for Bathurst."