Quinn expects full Supercars takeover of Aus GT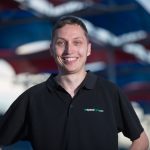 Australian GT boss Tony Quinn expects Supercars will eventually take full ownership of the category on top of its proposed management takeover for 2018.
Supercars is set to run Australian GT from next season having reached a deal in principle with Quinn, as revealed by Speedcafe.com earlier this month.
Subject to approval from the Confederation of Australian Motor Sport (CAMS), the arrangement will see Supercars takeover the operational commitments for the Australian GT Championship, Australian Endurance Championship and the Australian GT Trophy Series.
The management change is set to be discussed by the CAMS board before the end of the month, although official confirmation of the deal is not expected for six weeks.
Supercars delivered a presentation to competitors highlighting its plans for the class that include a rebrand to SuperGT to bring it into line with its Dunlop Super2 and SuperUtes series.
Quinn has confirmed the current arrangement with Supercars will see him retain ownership of Australian GT, but he is predicting that status will change in the near future.
The Scottish born businessman believes the future for GT racing in Australia is in safe hands with Supercars, who he feels will take the category to the next level.
This weekend the category has attracted only 11 entries for its season finale at Sandown, while only 17 cars entered the previous AEC round at Sydney Motorsport Park.
"I think it is great move for everybody and I think Supercars are the only guys that can take it to the next level," Quinn told Speedcafe.com.
"The CAMS board will meet to tick it off and I can't see that they would have any objections because it is the best thing for myself, Supercars, the sport and the competitors.
"I don't really know how the Category Management Agreement part of it works, but basically Supercars will run it and I'm still going to own it.
"But I think there will come a time, whether it is one month or five years that they (Supercars) will own it too.
"The Bathurst 12 Hour is important to them and we need a strong GT category in Australia.
"I think the whole thing bodes well and I do know that they have got some sponsors lined up that are not necessarily interested in the V8 side of things."
Quinn has also confirmed that the retention of current category manager Ken Collier was stipulated in the terms of the proposed management takeover deal with Supercars.
"Ken and Margaret have done a good job and Supercars have no desire to change any of that," added Quinn.
"They (Supercars) don't want to change much at all, they just want to manipulate their program and their show with the GTs."