First Super5000 car sale confirmed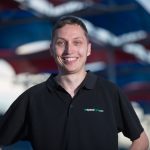 The first Super5000 single seater has been sold ahead of a planned launch for the new category next year.
Prodrive Racing Australia co-owner Rusty French has acquired the first chassis which he plans to field for rising Australian open wheel driver Thomas Randle.
The sale was confirmed at the Wilson Security Sandown 500 where French handed over a $100,000 deposit for the car.
Supported by Supercars, Super5000 is a new open wheel category that has been born out of a merger between a rival Formula Thunder 5000 series in July.
Supercars retains category management rights for the joint project.
French offered an insight into the series' possible technical package for next year, which is set to be based around the Super5000 chassis developed by Oscar Fiorinotto and funded by Brian Boyd (PAYCE).
He hinted that the Ford Coyote V8 engine from Chris Lambden's Formula Thunder 5000 car, which burst onto the scene last year, could be fitted to the car.
The original Super5000 car is powered by a Supercars V8 engine and is set to conduct demo laps at Sandown this weekend with Leanne Tander at the wheel.
"I have always been interested in the 5000s, from back in the old days when they were running the Tasman Series and I think it is a fantastic series to be involved in," said French.
"I have agreed to put Thomas (Randle) in one of these cars in the new category, the Super5000, and I believe that if we could end up with a grid of 16 or 18 of these cars it would be fantastic racing.
"The car that I have purchased is this car, there will be some variation to the mechanical side of it.
"I believe the chassis aero will stay the same, it could very well be that Chris Lambden's engine could be the choice of the engine package to run, which would keep the cost of these cars down, but for the price of these cars they are similar money to a Carrera Cup car.
"For anybody that wants to go racing in open wheelers and have a big banger V8, I think they are fantastic."
French sees the category as a perfect opportunity for young drivers like Randle, whom he has backed for several seasons, to hone their skills.
Reigning Toyota Racing Series winner Randle has been competing in the European open wheel scene since last year, enjoying spells in British F3 and Formula V8 3.5, before securing drives in Formula Renault 2.0 Eurocup this season.
Randle is set to test the car when he returns to Australia after his Formula Renault outing at Spa-Francorchamps next weekend.
"I am sure there are plenty of young guys out there that have been doing Formula 4 and other open wheeler categories that deserve to jump into one of these," French added.
"We need some other corporate backing to assist getting this category on the track.
"That is why I thought to get it rolling I would put my money where my mouth is and let's get started, (now) we need another 19 to make the category complete.
"I think there is a lot of young guys that would love to get in these cars but there are also a lot of very experienced drivers who have come out of other categories of motorsport."
Interest in the category is growing with Australian GT owner Tony Quinn confirming to Speedcafe.com that he is keen to purchase a car if the chassis is powered by the engine used by the Formula Thunder 5000.