Fiore tops opening co-driver practice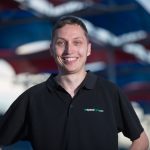 Dean Fiore put the Calsonic Nissan Altima on top in a rain affected opening co-driver practice session for the Wilson Security Sandown 500.
Fiore, who will partner Michael Caruso, surged to the top of the times early in the running as light rain began to douse the Melbourne circuit.
The former Supercars full-timer posted a 1:09.64s before the rain intensified in the final 15 minutes of the half hour session.
The lap was slightly faster than the best set in the corresponding session last year.
THE FINAL RACE OF THE 2023 REPCO SUPERCARS CHAMPIONSHIP ON ONE OF THE WORLD'S BEST STREET CIRCUITS. GO ALL IN AT THE VAILO ADELAIDE 500, CLICK HERE TO BUY TICKETS
As conditions worsened the timesheets remained relatively unchanged, rewarding drivers who posted strong times early in the piece.
Dean Canto was second fastest in the #5 Prodrive Falcon he will share with Mark Winterbottom, just a tenth shy of Fiore.
Erebus Motorsport was third fastest courtesy of Luke Youlden in the #9 David Reynolds Commodore.
Karl Reindler was fourth (Preston Erection Commodore), ahead of Paul Dumbrell in the #88 Red Bull Holden.
Dumbrell had a brief scare on the slippery circuit when he straight-lined the Esses early in the running.
Brad Jones Racing circulated their co-drivers through its three entries, with the #8 to be driven by Nick Percat and Macauley Jones claiming sixth.
Jones enjoyed a spell in the #75 entry of Tim Slade and Ash Walsh.
The top 10 was rounded out by Jack Le Brocq (#7 Todd Kelly Carsales Racing), Warren Luff (#02 Scott Pye Mobil 1 HSV Racing), Todd Hazelwood (#4 Team Cooldrive) and Matt Campbell (#97 Red Bull Racing Australia).
The session saw Tony D'Alberto (#12 Shell V Power Racing) and Richard Muscat (#34 Garry Rogers Motorsport) suffer spins after running over the kerbs at turn 4 and the final corner respectively.
Richie Stanaway had to persevere with a mechanical issue for Cameron Waters' #6 Monster Energy Falcon as he finished 20th fastest.
"We had a bit of a messy session; we had a problem with the engine so just when it got the tyres in on that dry run we had to pit, so obviously lost all the dry running there," Stanaway explained.
"Then we were just kind of trundling around for the rest of that session trying to get a feel for it again in the wet conditions because it looks like we might have a bit of that weather on the way."
Primary drivers will jump in the cars for the second practice session from 1335 AEST.
Results: Virgin Australia Supercars Championship Wilson Security Sandown 500 Practice 1 (Co-drivers)
| | | | | | | |
| --- | --- | --- | --- | --- | --- | --- |
| 1 | 23 | Nissan Motorsport | Dean Fiore | Nissan Altima | 1:09.6440 | |
| 2 | 5 | The Bottle-O Racing Team | Dean Canto | Ford Falcon FG/X | 1:09.7513 | 0.1073 |
| 3 | 9 | Erebus Penrite Racing | Luke Youlden | Holden Commodore VF | 1:09.7657 | 0.1217 |
| 4 | 18 | Preston Hire Racing | Karl Reindler | Holden Commodore VF | 1:09.8000 | 0.1560 |
| 5 | 88 | Red Bull Holden Racing Aust | Paul Dumbrell | Holden Commodore VF | 1:09.8089 | 0.1649 |
| 6 | 8 | Mongrel Boots Racing | N.Percat/M.Jones | Holden Commodore VF | 1:09.9094 | 0.2654 |
| 7 | 7 | carsales Racing | Jack Le Brocq | Nissan Altima | 1:09.9178 | 0.2738 |
| 8 | 02 | Mobil 1 HSV Racing | Warren Luff | Holden Commodore VF | 1:09.9840 | 0.3400 |
| 9 | 4 | Team CoolDrive | T.Blanchard/T.Hazelwood | Holden Commodore VF | 1:10.0014 | 0.3574 |
| 10 | 97 | Red Bull Holden Racing Aust | Matthew Campbell | Holden Commodore VF | 1:10.0097 | 0.3657 |
| 11 | 888 | TeamVortex | Steven Richards | Holden Commodore VF | 1:10.0373 | 0.3933 |
| 12 | 33 | Wilson Security Racing GRM | James Golding | Holden Commodore VF | 1:10.0625 | 0.4185 |
| 13 | 12 | Shell V-Power Racing Team | Tony D'Alberto | Ford Falcon FG/X | 1:10.0750 | 0.4310 |
| 14 | 75 | Freightliner Racing | T.Slade/A.Walsh | Holden Commodore VF | 1:10.1028 | 0.4588 |
| 15 | 22 | Mobil 1 HSV Racing | Jack Perkins | Holden Commodore VF | 1:10.1517 | 0.5077 |
| 16 | 56 | MEGA Racing | Garry Jacobson | Ford Falcon FG/X | 1:10.1617 | 0.5177 |
| 17 | 17 | Shell V-Power Racing Team | Alexandre Premat | Ford Falcon FG/X | 1:10.1849 | 0.5409 |
| 18 | 55 | Supercheap Auto Racing | Steve Owen | Ford Falcon FG/X | 1:10.2285 | 0.5845 |
| 19 | 15 | Sengled Racing | David Wall | Nissan Altima | 1:10.2665 | 0.6225 |
| 20 | 6 | Monster Energy Racing | Richie Stanaway | Ford Falcon FG/X | 1:10.3203 | 0.6763 |
| 21 | 34 | Wilson Security Racing GRM | Richard Muscat | Holden Commodore VF | 1:10.3299 | 0.6859 |
| 22 | 78 | Team Harvey Norman | David Russell | Nissan Altima | 1:10.3384 | 0.6944 |
| 23 | 19 | TEKNO Woodstock Racing | Jonathon Webb | Holden Commodore VF | 1:10.4965 | 0.8525 |
| 24 | 62 | Repair Management Aust Racing | Alex Davison | Holden Commodore VF | 1:10.6639 | 1.0199 |
| 25 | 99 | Erebus GB Galvanizing Racing | Chris Pither | Holden Commodore VF | 1:10.7300 | 1.0860 |
| 26 | 3 | Plus Fitness Racing | Taz Douglas | Holden Commodore VF | 1:10.8165 | 1.1725 |