Dane set to step down from Supercars Board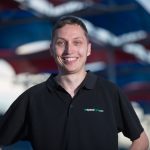 Triple Eight team owner Roland Dane plans to step down from the Supercars board of directors next month, Speedcafe.com has learned.
Dane has notified members that he will not to stand for re-election later this year, effectively freeing up a slot on the Supercars Board.
The boss of Supercars' most successful team in recent years has held a position on the Supercars Board for a period of 13 years, and was subsequently re-elected for a two-year term in October 2015.
"To be honest I have given it enough time," Dane told Speedcafe.com.
THE FINAL RACE OF THE 2023 REPCO SUPERCARS CHAMPIONSHIP ON ONE OF THE WORLD'S BEST STREET CIRCUITS. GO ALL IN AT THE VAILO ADELAIDE 500, CLICK HERE TO BUY TICKETS
"It is an unpaid position and I have spent an awful lot of time and energy on it for a long period, and I would quite like that time back to do other things.
"I have got other things going on in life, so it is time for somebody else to step up."
The Supercars Board, which makes key decision regarding the future of the sport, currently consists of CEO James Warburton, Archer Capital chief executive Peter Wiggs, and team owner representatives Brad Jones, and Dane.
Jones was re-elected in October last year.
It is expected that a replacement will be announced at the Supercars Annual General Meeting (AGM) held around the Vodafone Gold Coast 600 meeting from October 20-22.
If there is more than one nominee for the position an election process will be undertaken.
While choosing to step away from his role, Dane is proud of his contribution to Supercars during his tenure.
"I've been on the Supercars Board since 2004, with one year off in that time," added Dane.
"For 12 of the 14 years I have been here I have been on the Supercars Board, and to be honest I think it is time for a change at Board and Commission level.
"I think in hindsight there are certain things individually and collectively that we could have done better, but overall I think I'm proud of a lot things we have done in the time I have been involved."
The news arrives amid changes to the Supercars Commission following confirmation that chairman Steve Horne will retire in October.
The Commission oversees potential regulation, format and rule changes with recommendations then passed to the Supercars Board for approval.
Horne took over the chairman position from five-time Supercars champion Mark Skaife in 2013.
The Supercars Commission, which comprises team representatives Todd Kelly, Tim Edwards and Brad Jones, independent Neil Crompton and Supercars CEO James Warburton and chief operating officer Shane Howard, are considering candidates to replace Horne.