Drivers evaluate SuperUtes at Norwell test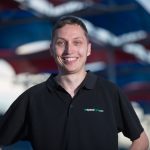 A host of prospective competitors received their first taste of the new East Coast Bullbars SuperUtes at Norwell Motorplex.
Examples of the Ford Ranger and Mitsubishi Triton dual cab turbo diesel SuperUtes were driven by competitors interested in joining the new category next season.
A mix of drivers ranging from rookies, aspiring Supercars drivers and experienced former V8 Utes campaigners tested the newly constructed vehicles.
The new SuperUtes have been jointly developed by PACE Innovations and series consultant Ross Stone, who oversaw the the two-day test at the Gold Coast facility.
Six SuperUtes will be homologated for the series with the Ford and Mitsubishi joined by the Mazda BT-50, Toyota Hilux, Isuzu D-Max and Holden Colorado.
Each Ute will be fitted with a $60,000 suite of control components including uprated suspension and Brembo brakes.
Drivers were impressed by the power, handling and braking efficiency produced by the new spec Utes, which are still undergoing development.
Former Dunlop Super Series driver and Kumho V8 Touring Cars Series winner Liam McAdam is among those considering an entry into the series, he sees a stepping stone to Supercars.
"I was actually quite surprised by how well the cars handled. It does feel what it is which is a big heavy Ute," McAdam told Speedcafe.com.
"It had a lot of turn and the rear is a bit tail happy which is what I like. The power is impressive too, it is a good car.
"One of the major differences was the turbo diesel and having to take in the turbo lag. Trying to adjust to that was the main thing but I was pleasantly surprised by the power.
"If I can secure backing for it I will definitely consider doing it. Commercially it is a great category.
"I think it is a stepping stone in that Supercars pyramid. It is a good progression."
Brett Parrish, who competes in state level Hyundai Excel racing, is confident a full grid will produce plenty of overtaking given the strength of the brakes.
"I thought the brakes were really good and that is where all the overtaking is going to happen and a lot of action," Parrish told Speedcafe.com
"The engine kept on pulling really good when it gets up on the turbo, and it felt like it just wanted to keep going.
"I think it will win people over straight away, I think it will really take off."
Meanwhile, former V8 Utes and Australian GT driver Elliot Barbour admits the SuperUtes pose several differences compared to their predecessors.
However, the 26-year-old is eager to secure a deal to be on the grid next year.
"It is very different to the old V8 Utes but straight away I had a big smile my face, they are good fun to drive," Barbour told Speedcafe.com.
"It slides a lot and being a diesel your timing is very critical to make sure you are always on the boost.
"It will be a challenge from a driver's point of view, but from a fans' point of view they sound quite cool at the moment, and there is still some work to do on the exhausts.
"If anything these are more of a race car than the old V8 Utes.
"I'm definitely thinking about it. I'd love to put my hand up and race one because I think it is going to be fun."
The new eight round SuperUtes Series is expected to begin at the Adelaide 500 (TBC) from March 1-4.