Miedecke plotting Bathurst 12H, Aus GT return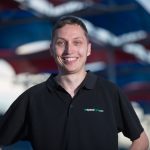 Miedecke Motorsport is eyeing a return to the Bathurst 12 Hour and Australian GT Championship next year.
The squad is working on a plan to field two Aston Martin Vantage GT3s at the February 2-4 Mount Panorama endurance event.
One car is expected to contest the outright class with George Miedecke set to be among the three driver line-up, while a factory Aston Martin pilot is being sought to join the trio.
The team is currently talking to prospective drivers for the second Vantage GT3.
Last year the Andrew Miedecke led operation entered a car for son George Miedecke, Ash Walsh and Tony Bates.
The entry earned a slot in the Top 10 Shootout before retiring from the race following a heavy crash, after Miedecke suffered carbon monoxide poisoning.
"We are proposing to run two at the Bathurst 12 Hour," Andrew Miedecke told Speedcafe.com.
"The main car is two thirds filled and I'm thinking about maybe an Aston Martin driver to make up the three. That car will run outright.
"We are taking to other good drivers about running the second car.
"They (the cars) will both run in 2016 specification and they should be competitive. That is the plan at this stage."
The two Vantage GT3s could be bolstered by a GT4 entry following the recent purchase of an Aston Martin Vantage GT4 from Asia.
Andrew Miedecke plans to run the car in selected events this year ahead of a possible return to Australian GT in the new for 2018 GT4 class.
However, a run at the Bathurst 12 Hour has not been ruled out.
Miedecke successfully tested the car at Queensland Raceway on Wednesday.
"I heard about the car and I have bought it over to Australia and the intention is to run in Australian GT depending on drivers and budgets," added Miedecke.
"It is actually really good to drive, it is a lot of fun. It loses down the straight but you don't really notice that.
"I think the GT3 is great and they are fantastic cars but the costs are very high and they are pretty daunting for someone coming into the sport.
"I think GT4 is the ideal stepping stone in GT."