Vintage American look for Kelly Nissans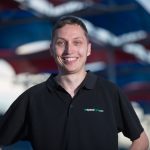 Nissan Motorsport has revealed a vintage American look for Rick and Todd Kelly's Nissan Altimas to coincide with the Wilson Security Sandown 500 retro round.
Todd Kelly's Carsales Racing entry and Rick Kelly's Sengled Racing Nissan will pay tribute to the Brock Racing Enterprises (BRE) Datsuns that dominated the American sportscar scene during the 1960's and 1970's.
Operated by American automotive designer Pete Brock, BRE claimed SCAA and Trans Am 2.5 titles in the early 70s, utilising the 2000, 240Z and 510 models, which helped establish the Datsun brand in North America.
The eye-catching red, white and blue liveries have been successfully recaptured for the opening round of Supercars' Pirtek Enduro Cup at Sandown from September 15-17.
Todd Kelly is set to share his #7 Altima with Dunlop Super2 star Jack Le Brocq, while David Wall joins Rick Kelly in the #15 Nissan.
The squad will step up its enduro cup preparations wth a test day at Winton on Wednesday.
"This livery is quite special," said Todd Kelly.
"Not only does the car celebrate Nissan's racing past, but also this year marks Carsales' 20th anniversary. So to be able to celebrate both of these achievements at the Retro Round is really great.
"Jack (Le Brocq) has been doing a great job in the Super2 series this year," continued Kelly.
"He's also driven really well in his main game wild card appearances. So to have a young guy who is really familiar with the Altima will be beneficial for the longer races."
Rick Kelly is equally impressed by his team's fresh look as he heads into the endurance races leading the Nissan charge, lying 14th in the championship standings.
"The colours of the car are really iconic and really capture the spirit of the retro round," said Rick Kelly.
"There's been a lot to celebrate in terms of Nissan's racing history in Australia, but this year we decided to look abroad and to their domination of American road racing in the early 70s.
"We're all familiar with Australia's Peter Brock, but America's Pete Brock ran fast Nissans in the 60s and 70s to great success. So it's fun to share this history with everyone.
"David has done everything asked of him so far and I'm excited to start our enduro campaign together," added Kelly.
"This week we'll work on driver changes and fine tuning ahead of Wednesday's test day at Winton."