Striking split retro livery for Holdsworth, Reindler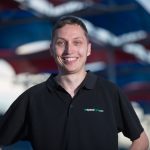 Preston Hire Racing has taken the covers off a striking split retro colour scheme for this month's Wilson Security Sandown 500 retro round.
The Melbourne team has unveiled a 50/50 livery that mixes the car's 2017 look with a hark back to the past.
One half of the car displays the heritage of all their partners with an eye catching white and pink livery, including the title sponsor's original branding Preston Erection. The company name was used from 1969 up until 2001.
The team's regular driver Lee Holdsworth will once again be joined by Karl Reindler for the Pirtek Enduro Cup which begins at Sandown from September 15-17.
THE FINAL RACE OF THE 2023 REPCO SUPERCARS CHAMPIONSHIP ON ONE OF THE WORLD'S BEST STREET CIRCUITS. GO ALL IN AT THE VAILO ADELAIDE 500, CLICK HERE TO BUY TICKETS
Team owner Charlie Schwerkolt expects the squad's alternative livery will prove to be a standout among the retro colour schemes.
The colour scheme will be accompanied by retro jackets and hats to be worn by the entire crew.
"The retro car looks really fantastic. It shows the history from where all our partners came from but especially showing Preston Hire's origins with the old fashioned Preston Erection livery," said Schwerkolt.
"We put our heads together to come up with something different and I believe this is going to be a real stand out for this iconic event. Our team crew will look awesome in their retro jackets and hats, it should be a lot of fun."
After narrowly missing out on a top 10 last year, Holdsworth, who is 12th in the standings, is hopeful of challenging for a strong result.
"I'm so pumped to kick off the endurance season," said Holdsworth.
"The Sandown 500 is one of my favourite events and the retro theme adds to the excitement, especially with our cool livery, which will be a big talking point.
"Karl and I were pretty quick in race trim last year so I'm looking forwards to challenge for a top result."