Rally rising star Harry Bates looks to Europe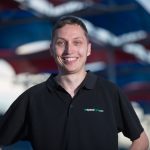 Australian Rally Championship rising star Harry Bates is eager to make a break into the European scene as he looks to progress his career.
The 22-year-old, son of four-time Australian Rally Championship winner Neal Bates, has been making a name for himself in the national rally scene, leading this year's ARC title race with two rounds remaining.
Bates, who finished third in the championship last year, has become the youngest ever winner of an ARC round when he and co-driver John McCarthy took victory at the Eureka Rally in Victoria in March.
The Canberra driver is fully focused on securing the title this season but is already starting to look further afield to expand his horizons, with a part-time European campaign among his targets.
"Absolutely, I'd love to be competing in Europe on a part-time basis as soon as I can," said Bates.
"I have been really happy with what I have been able to achieve here and I want to continue that.
"Certainly Europe is on my radar but it is all about securing the funding and getting over there and giving myself the best opportunity to do well.
"In the meantime, I'm really enjoying rallying here and it gives me a lot experience which is exactly what I need at this point."
Bates says he is in no rush to make the move and intends to continue competing in Australia for the foreseeable future, with his Toyota squad currently undertaking the build of a new AP4 specification Yaris rally car.
"I will be in Australia for a few more years to come with the new car," he added.
"The ARC has been goal of mine certainly since the start of the year and before that.
"It is something I want to achieve because there are a lot of people here who put in a lot of effort into us and it would be a nice way of paying them back.
"If it can lead to other things, great, but first and foremost I want to work on that title and worry about other things afterwards.
"I guess I can do both championships certainly for a while. I will do that for as long as I could.
"Rallying is a sport where age isn't quite as critical as what it is in circuit racing. A lot of rally drivers come into the world championship later than say in F1 or Supercars.
"I'm not in an huge rush and I don't feel like the is running out at all. I want to get as much experience as I can here before I go over there."
Given his connection to the Toyota brand, aided by his father's success, Bates is hoping to meet the marque's WRC squad at November's Rally Australia.
The young Australian has boosted his experience levels by testing an R5 specification Toyota for a team in Paraguay.
"To have the Toyota World Rally Team here will be amazing," he added.
"If I can meet the drivers and some of the personnel in the team then that would be a great opportunity."
Bates and McCarthy will continue their ARC campaign when the championship visits South Australia from September 15-17.