Opportunistic Ricciardo content with Spa podium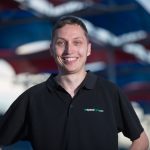 Daniel Ricciardo has praised a late Safety Car interruption which allowed him to snatch an unlikely podium at the Belgian Grand Prix.
The Australian had struggled for pace at the Spa-Francorchamps Circuit which left him circulating in fifth and fourth positions for the majority of the 44-lap race.
However, the Red Bull driver made the most of a Safety Car period to challenge for a podium, after his team elected to fit a set of ultra-soft tyres during the stoppage.
Armed with the new rubber, the five-time grand prix winner was able to sweep around the outside of Mercedes' Valtteri Bottas and Kimi Raikkonen (Ferrari) to snatch third in an audacious pass on the restart.
Ricciardo was then able to fend off Raikkonen to claim his sixth podium of the season, behind race winner Lewis Hamilton (Mercedes) and Sebastian Vettel (Ferrari).
"It (the Safety Car period) worked well," said Ricciardo.
"The race was a little static and it gave me an opportunity to have a crack so I did, and it gave me a podium.
"I'm super pleased with that. We get ourselves in a position, whether we put ourselves there or we are a bit fortunate, and when we do, we capitalise, so I'm happy with that."
Ricciardo admits Red Bull was well shy of rivals Mercedes and Ferrari at Spa but is hopeful the gap will close when the championship heads to Singapore after this coming weekend's Italian Grand Prix.
"It is tough. Some races we look closer and others not it is hard to say (if we are making progress)," he added.
"The middle stint seemed competitive but I was on a super-soft and they (Mercedes and Ferrari) were on softs.
"At the end I had good pace over Kimi (Raikkonen)and Valtteri (Bottas), but Seb (Vettel) and Lewis (Hamilton) were on another level.
"We will see. It will be difficult to do better than this at Monza, but come Singapore we can be competitive with Mercedes, but Ferrari might be a stretch."
Ricciardo remains fourth in the championship standings four points ahead of Raikkonen, with Red Bull team-mate Max Verstappen a distant sixth after he suffered his sixth retirement of the year.