Hamilton takes Spa win after late Vettel challenge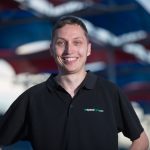 Lewis Hamilton survived a late challenge from Sebastian Vettel to claim victory in a Safety Car interrupted Belgian Grand Prix.
The Mercedes driver appeared in control of the race, having led from pole position, before the emergence of the Safety Car in the closing stages, due to a collision involving Force India's Sergio Perez and Esteban Ocon.
A late stoppage saw the the lead group of five pit with Ferrari opting to fit the faster ultra-soft tyres to second placed Vettel and Raikkonen in fifth.
Despite choosing the slower soft compound tyres, Hamilton fended off an initial spirited challenge from Vettel on the restart with 10 laps remaining, before going on to take the win.
Vettel settled for second while Red Bull's Daniel Ricciardo produced an audacious overtaking move when the race resumed to claim third.
Ferrari's Kimi Raikkonen came home in fourth after he incurred a 10 second stop/go penalty, while Valtteri Bottas was fifth.
The victory has seen Hamilton close to within seven points of championship leader Vettel.
Hamilton successfully converted his pole position into a lead as the field streamed into the tight La Source hairpin for the first time.
Vettel slotted into second after briefly challenging for the lead at Les Combes, while Bottas held third ahead of Raikkonen, Max Verstappen and Ricciardo.
McLaren's Fernando Alonso emerged as the biggest mover, climbing from 10th to seventh, but his lack of straight-line speed saw him soon slide back down the order.
Further back Perez and Ocon made contact on the run to Eau Rouge and were lucky to avoid causing a major incident.
At the front, Vettel was initially able to match Hamilton before the latter found his rhythm and opened up a lead.
Meanwhile Red Bull's challenge was halved when Verstappen ground to halt on the Kemmel Straight after he suffered a loss of power.
It was the Dutchman's sixth retirement from 12 races.
The incident triggered a penalty for fourth placed Raikkonen as stewards deemed he failed to slow under double waved yellow flags while marshals cleared the stricken Red Bull.
Officials issued a 10 second stop and go penalty that was served after his first stop, which demoted him to seventh.
Hamilton was the first of the lead group to pit on lap 12, fitting soft tyres in the process.
He came out in fourth but soon regained a 1.6s lead over Vettel once the pit stop cycle played out.
Ricciardo, who fitted super-soft tyres in his stop, moved up to fourth behind Bottas, courtesy of Raikkonen's penalty.
The race was neutralised on lap 30 when Perez and Ocon collided again on the run to Eau Rouge.
Perez appeared to offer little room to his team-mate which sparked contact, causing Ocon to lose his front wing, and a left rear puncture to the former.
Both managed to return to the pits to fix the damage as the Safety Car sparked a flurry of action in the pit lane.
Hamilton emerged in the lead with new soft tyres while Ferrari fitted ultra-softs to Vettel.
Bottas also opted for softs ahead of the ultra-soft shod Ricciardo and Raikkonen.
Hamilton came under serious pressure on the restart from Vettel but the Brit held firm.
Behind, Ricciardo snatched third with an impressive move around the outside of Bottas at Les Combes, while Raikkonen grabbed fourth.
The positions remained unchanged at the chequered flag.
Renault's Nico Hulkenberg finished in sixth after a solid drive ahead of Haas F1's Romain Grosjean.
Williams' Felipe Massa fought his way from 16th on the grid to claim eighth, while Ocon and Carlos Sainz (Toro Rosso) completed the top 10.
Despite his strong start, a frustrated Alonso retired his McLaren on lap 27 with an engine issue.
He joined Perez, Verstappen and Sauber's Pascal Wehrlein among the list of retirements.
The championship continues at next weekend's Italian Grand Prix (September 1-3).
Result: Formula 1 Belgian Grand Prix
| Position | Driver | Car | Laps | Gap |
| --- | --- | --- | --- | --- |
| 1 | Lewis Hamilton | Mercedes | 44 | |
| 2 | Sebastian Vettel | Ferrari | 44 | 2.358s |
| 3 | Daniel Ricciardo | Red Bull/Renault | 44 | 10.791s |
| 4 | Kimi Raikkonen | Ferrari | 44 | 14.471s |
| 5 | Valtteri Bottas | Mercedes | 44 | 16.456s |
| 6 | Nico Hulkenberg | Renault | 44 | 28.087s |
| 7 | Romain Grosjean | Haas/Ferrari | 44 | 23h35m17.s |
| 8 | Felipe Massa | Williams/Mercedes | 44 | 23h35m17.s |
| 9 | Esteban Ocon | Force India/Mercedes | 44 | 23h35m17.s |
| 10 | Carlos Sainz | Toro Rosso/Renault | 44 | 23h35m17.s |
| 11 | Lance Stroll | Williams/Mercedes | 44 | 23h35m17.s |
| 12 | Daniil Kvyat | Toro Rosso/Renault | 44 | 23h35m17.s |
| 13 | Jolyon Palmer | Renault | 44 | 23h35m17.s |
| 14 | Stoffel Vandoorne | McLaren/Honda | 44 | 23h35m17.s |
| 15 | Kevin Magnussen | Haas/Ferrari | 44 | 23h35m17.s |
| 16 | Marcus Ericsson | Sauber/Ferrari | 44 | 23h35m17.s |
| 17 | Sergio Perez | Force India/Mercedes | 42 | Not running |
| DNF | Fernando Alonso | McLaren/Honda | 25 | Retirement |
| DNF | Max Verstappen | Red Bull/Renault | 7 | Retirement |
| DNF | Pascal Wehrlein | Sauber/Ferrari | 2 | Retirement |
Championship Standings
| Position | Driver | Points |
| --- | --- | --- |
| 1 | Sebastian Vettel | 220 |
| 2 | Lewis Hamilton | 213 |
| 3 | Valtteri Bottas | 179 |
| 4 | Daniel Ricciardo | 132 |
| 5 | Kimi Raikkonen | 128 |
| 6 | Max Verstappen | 67 |
| 7 | Sergio Perez | 56 |
| 8 | Esteban Ocon | 47 |
| 9 | Carlos Sainz | 36 |
| 10 | Nico Hulkenberg | 34 |
| 11 | Felipe Massa | 27 |
| 12 | Romain Grosjean | 24 |
| 13 | Lance Stroll | 18 |
| 14 | Kevin Magnussen | 11 |
| 15 | Fernando Alonso | 10 |
| 16 | Pascal Wehrlein | 5 |
| 17 | Daniil Kvyat | 4 |
| 18 | Stoffel Vandoorne | 1 |
| 19 | Jolyon Palmer | 0 |
| 20 | Marcus Ericsson | 0 |
| 21 | Antonio Giovinazzi | 0 |