Ricciardo: No hard feelings towards Verstappen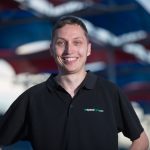 Daniel Ricciardo says he was satisfied by Max Verstappen's apology following their Hungarian Grand Prix clash as the pair prepare to return to the track at Spa this weekend.
The Australian was taken out of the race on the opening lap at the Hungaroring by his Red Bull team-mate who tried an ambitious move to reclaim fifth position at Turn 2.
Ricciardo criticised his team-mates' actions in the immediate aftermath before receiving an apology from Verstappen.
Heading into this weekend's Belgian Grand Prix following a summer break, the Australian says he feels able to move on from the incident after a one-on-one chat with Verstappen.
"You look back and at the time you're kind of heated, you're just like, 'let me speak to the media now and get it all off my chest'. Is it better to wait a little bit? Maybe," said Ricciardo.
"At the same time, it's also good for people to see your emotion, and anyone who has a competitive bone in their body can understand the heat of the moment.
"I think as well for me that weekend I was frustrated after Saturday. Friday was a great day, and Saturday we had the problem in P3, and I didn't feel like I got everything out of it in Q3.
"I was talking about the race on Saturday, so I was already kind of pumped for that, so I built to go and have a good race, and it was all over just like that.
"I had a lot of fuel in me which I didn't get to burn, so that was frustrating, but after the race Max pulled me aside, we spoke one on one, and it was all I could ask from him.
"Obviously he can't give me points back, or anything like that, but at least he did that, it was sincere and we shook hands, so I was satisfied."
Opening practice for this weekend's Belgian Grand Prix is scheduled for 1800 AEST.