QR responds as safety concerns intensify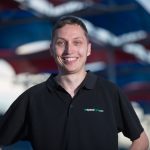 Concerns regarding the safety standards at Queensland Raceway have intensified following the deaths of two men in a crash at the venue last weekend.
Motoring enthusiasts Kurt Bull and Daniel King were killed when a Holden Monaro crashed at Turn 1 during a Roll Racing event for modified street cars on Saturday night.
A statement from Queensland Raceway claims that the crash was caused by a suspected stuck throttle which saw the vehicle leave the track at Turn 1 and hit a concrete wall before rolling over and catching fire.
This tragedy follows a death at the circuit last year and two fatalities in 2013 including British Porsche Supercup racer Sean Edwards.
The circuit's immediate response to the incident has however been questioned in a report from the ABC.
According to the report, a former Queensland Ambulance Service paramedic Tom Saurine was among the first of the responders on the scene of the accident.
"Unfortunately the training and the response was lacking," Saurine wrote on Facebook as quoted by the ABC.
"Not only did they run out or [sic] fire extinguishers which hampered us pulling them from the wreckage, but their first aid knowledge was lacking in a trauma aspect and their equipment also.
"They could not provide me with a non rebreather mask."
Circuit owner John Tetley has strongly refuted the claims to Speedcafe.com maintaining that medical crews attended the crash within 30-45 seconds.
According to Tetley, paramedics in a SUV were positioned at the end of pit lane at the time of the incident ensuring the vehicle had to travel 450 metres to the scene.
He claims ten fire extinguishers were used to put the fire out with the circuit housing more than 100 units on site.
Tetley also says the circuit's medical equipment was working sufficiently, while his staff undergo first aid courses every year and fire extinguisher training.
The circuit issued a full statement on Sunday.
Speedcafe.com has however been informed that Supercars teams Triple Eight and DJR Team Penske opt against relying on the circuit's medical teams when hosting test and ride days at the facility.
As part of team policy, the operations instead organise their own medical and ambulance crews to attend the track.
The Confederation of Australian Motor Sport (CAMS) and Ipswich City Council, who leases the circuit to Tetley, have declined to comment on the safety of the venue following the incident.
The Roll Racing event is not sanctioned or overseen by CAMS.
Supercars in accordance with the Ipswich City Council installs temporary barriers at the circuit every year prior to its annual visit to ensure the track meets the required FIA safety criteria to secure a CAMS licence.
The barriers are removed following the Shannons Nationals event usually held a week after.