Holden throws support behind SuperUtes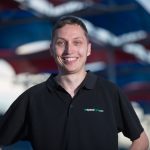 Holden has declared its support for the new SuperUtes category set to burst onto the Australian motorsport landscape next year.
The manufacturer's Colorado dual cab ute is expected to feature on the grid next season in the new turbo diesel powered series, which will replace the V8 Utes Holden versus Ford platform.
The vehicle is among six production-based utes to be homologated for the series, including the Ford Ranger, Mitsubishi Triton, Mazda BT-50, Toyota Hilux and the Isuzu D-Max.
A special control suite of components has been developed by PACE Innovations while engine performance will be strictly controlled to 340bhp and 500lb/ft by Supercars, who will maintain parity amongst the brands.
While the Colorado SuperUte is yet to break cover, Holden has released the first official render of the car, with the first example currently under construction at Ross Stone Racing on the Gold Coast.
Holden's show of support for the category arrives just over a year after the marque recommitted to Supercars.
"SuperUtes is an exciting new racing series and supporting Australian motorsport has been an important part of Holden's heritage, so we are delighted to homologate Colorado for the series," GM Holden General Manager – Brand, Media and Sponsorship, Emma Pinwill said.
"Colorado has been engineered to handle anything thrown at it by our customers, from inner city and suburban roads to rural highways, dirt roads, and off-road.
"The race track is no different and we are confident Colorado will carry on Holden's winning tradition."
"Holden has been such an integral part of Supercars rich history, so it goes without saying that we are delighted to welcome it to the SuperUtes ECB Series," added Supercars CEO, James Warburton.
Testing of the new SuperUtes began last week with a 50km shakedown being completed by a Mitsubishi Triton at Norwell Motorplex on the Gold Coast.
Support is continuing to grow for the new eight round SuperUtes Series which is expected to begin at the Adelaide 500 from March 1-4 next year.
Plans for five of the six homologated manufacturers to feature on the grid have already been indicated.