Erebus to keep a watchful eye on De Pasquale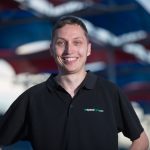 Erebus Motorsport will continue to monitor Anton De Pasquale's progress up the Supercars ranks following an impressive test day with the team at Winton.
The Melbourne outfit offered the Dunlop Super2 Series rising star a test in one of its Holden Commodores at the Victorian circuit on Tuesday.
De Pasquale jumped aboard David Reynolds' Commodore for the evaluation day in what was his first ever run in a Supercar at the venue.
The 21-year-old quickly adapted to the new car and surroundings to produce a strong display throughout the test.
Erebus team manager Barry Ryan was particularly impressed at the Supercars rookie's skills and attitude.
He believes the driver, who is only in his second season in touring cars, is ready for an enduro drive.
Lying fourth in the Dunlop Super2 Series rankings, De Pasquale is the highest ranked driver in the category not to have scored a Pirtek Enduro Cup drive.
"I think he is already at a point where he is mature enough (for a Pirtek Enduro Cup drive)," Ryan told Speedcafe.com.
"It is just a case of getting a few more miles under his belt and having the confidence in himself.
"We will just keep a watchful eye on him. We know he has got the ability and we will give him advice where we can.
"We actually got to a point halfway through the day where he was consistent enough and fast enough that we could test items.
"He gave us good feedback and he got on really well with David.
"His attitude is great. He is willing to listen and he is fairly keen to learn as much as he could before the day. He didn't turn up with any baggage, all he wanted to do was drive the car.
"We came into the day knowing there was one component which we wanted to test and gets some miles on.
"It wasn't so much a performance thing. We got that done and then we had a whole range of things that we have been playing with for the last three or four months.
"We got three or four of those done. It has probably been the same value as half a test day with David so it was good."
The opportunity presented De Pasquale a chance to compare himself against the team's regular driver in Reynolds, who completed his allotted 10 laps to provide a benchmark time.
The Paul Morris Motorsport driver admitted the day proved a confidence booster as he looks to continue his career up the Supercars ladder.
"It was very good day and I was thankful for the opportunity," De Pasquale told Speedcafe.com.
"David (Reynolds) is a pretty easy going guy and he gave me a few tips.
"He gave me a little bit of help to get a bit more time out of it in some of the corners.
"Just being able to look at the data helps heaps as at the moment I'm in a one car team in the Dunlop Super2 Series. Comparing yourself to a top line driver in the field is invaluable.
"It is always good for the confidence. I think lap time wise we were pretty fast and pretty comparable.
"With it being first time at the track and in the car it was really positive."
De Pasquale will continue his Dunlop Super2 Series campaign at the Red Rooster Sydney Super Sprint next week.